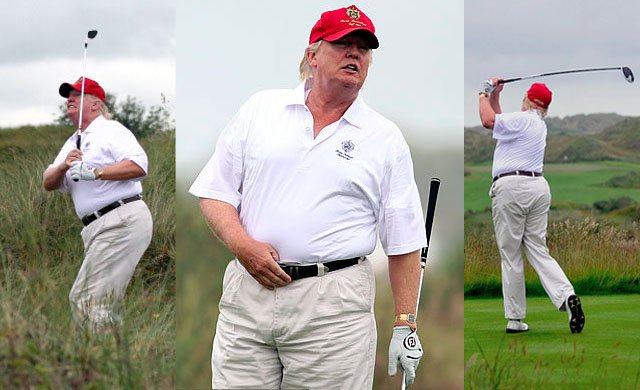 How healthy is President Donald Trump? We don't really know. The president never released his full medical records, and instead opted for a surreal on-air physical with TV star Dr. Oz.
One health aspect Trump is transparent about: He doesn't like to break a sweat. To be more precise, he thinks physical activity will kill you faster.
In a remarkable New Yorker story this week about how Donald Trump could realistically be removed from the presidency, Evan Osnos writes: "Other than golf, he considers exercise misguided, arguing that a person, like a battery, is born with a finite amount of energy."
The Trump "human body as non-rechargeable battery" theory was first detailed by Michael Kranish and Marc Fisher in their 2016 book, Trump Revealed:
After college, after Trump mostly gave up his personal athletic interests, he came to view time spent playing sports as time wasted. Trump believed the human body was like a battery, with a finite amount of energy, which exercise only depleted. So he didn't work out. When he learned that John O'Donnell, one of his top casino executives, was training for an Ironman triathlon, he admonished him, "You are going to die young because of this."
On the campaign trail, we learned that Trump didn't dedicate any extra time to breaking a sweat because he believes exercise is actually harmful, according to this 2015 New York Times profile:
Trump said he was not following any special diet or exercise regimen for the campaign. ''All my friends who work out all the time, they're going for knee replacements, hip replacements — they're a disaster,'' he said. He exerts himself fully by standing in front of an audience for an hour, as he just did. ''That's exercise.'"
Let's pause to consider how remarkably backward this is.
There was a time when doctors would have concurred with Trump on this. That was the Victorian era. Back then, people worried a physical activity could cause everything from exhaustion and heart palpitations, particularly in women.
A century later, doctors' thinking has moved on. Research now shows exercise is actually the closest thing we have to a miracle cure.
Regular physical activity can "prevent dementia, type 2 diabetes, some cancers, depression, heart disease and other common serious conditions — reducing the risk of each by at least 30%," according to this 2015 report on the benefits of exercise from the Academy of Medical Royal Colleges. "This is better than many drugs," the authors wrote.
It also helps people live longer. "Many studies give an approximate 30% risk reduction in all-cause mortality. Smoking is the biggest contributor to early mortality and years living with chronic illness and disability. Physical inactivity, through multiple mechanisms produces an effect one-third the effect of smoking." Overall, the researchers found, regular exercise reduces cardiac death by 31 percent.
So for Trump, exercise is deadly. But according to science, it's a miracle drug.
[Vox]