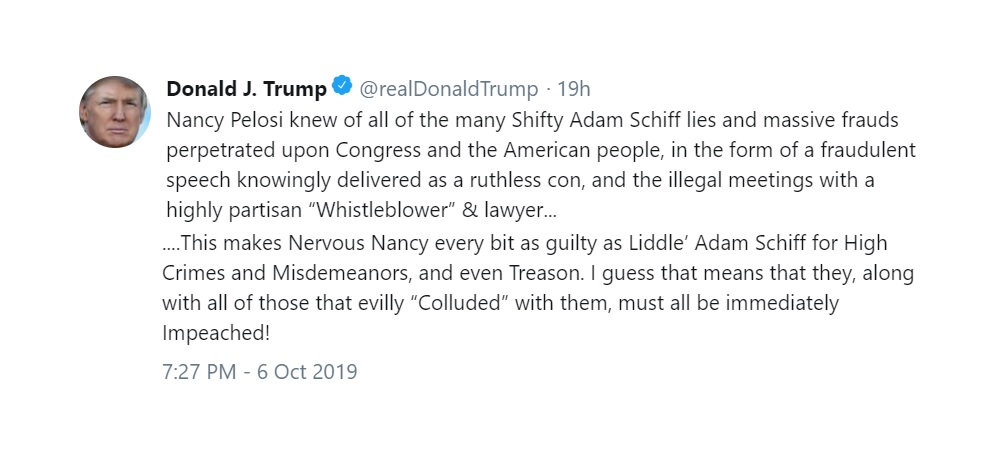 President Trump late Sunday suggested that Speaker Nancy Pelosi (D-Calif.) was guilty of treason and should be "immediately" impeached.
"Nancy Pelosi knew of all of the many Shifty Adam Schiff lies and massive frauds perpetrated upon Congress and the American people, in the form of a fraudulent speech knowingly delivered as a ruthless con, and the illegal meetings with a highly partisan 'Whistleblower' & lawyer," he tweeted.
"This makes Nervous Nancy every bit as guilty as Liddle' Adam Schiff for High Crimes and Misdemeanors, and even Treason. I guess that means that they, along with all of those that evilly 'Colluded' with them, must all be immediately Impeached!"
Members of Congress cannot be impeached, but the Constitution says each House of Congress "may determine the Rules of its proceedings, punish its members for disorderly behavior, and, with the concurrence of two-thirds, expel a member." Members may also be censured.
Trump last week ratcheted up attacks targeting House Intelligence Committee Chairman Adam Schiff (D-Calif.) for exaggerating a partial transcript of the July 25 call between the president and Ukraine's leader.
At the time, Trump suggested that Schiff should be arrested for treason, which is punishable by death or a prison term.
During a televised congressional hearing, Schiff said that Trump directed Ukrainian President Volodymyr Zelensky to "make up dirt on my political opponent" a full "seven times."
The California Democrat defended his comments amid backlash from Republicans at the time, saying: "Of course, the president never said, 'If you don't understand me I'm going to say it seven more times,' my point is, that's the message that the Ukraine president was receiving in not so many words."
It was also reported last week that the whistleblower at the center of a House impeachment inquiry into Trump contacted Schiff's committee before filing a complaint.
Trump's attacks late Sunday came shortly after reports emerged of a second whistleblower said to have firsthand knowledge of some of the allegations detailed in the original complaint.
Mark Zaid, an attorney at the firm that represents the whistleblower who filed the original complaint regarding Trump's interactions with Ukraine, said that he was representing the second whistleblower.
Zaid said the second whistleblower is also an intelligence official and has direct knowledge of some of the allegations detailed in the original complaint.
According to Zaid, the second whistleblower has already spoken to the head of the intelligence community's internal watchdog office, Michael Atkinson. However, they have not yet spoken with congressional committees investigating Trump's communications with Ukraine.
White House press secretary Stephanie Grisham defended Trump after reports surfaced of the second whistleblower and said "it doesn't matter how many people decide to call themselves whistleblowers about the same telephone call."
She also said that it "doesn't change the fact that he has done nothing wrong."
[The Hill]