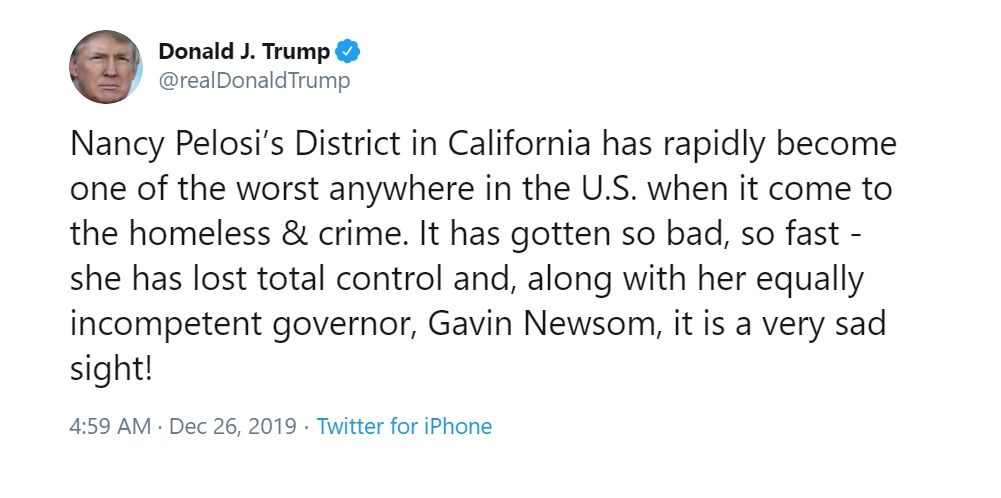 President Donald Trump is blaming California's governor for the state's homeless crisis and threatening a federal government intervention.
In a Christmas Day tweet, Trump wrote, "Governor Gavin N has done a really bad job on taking care of the homeless population in California. If he can't fix the problem, the Federal Govt. will get involved!"
This tweet came after cell phone video showed California Gov. Gavin Newsom telling reporters that the Trump administration was "not serious about this issue" and "they're playing politics."
This wasn't the first time the president has chimed in on the issue. Earlier this year he had said he was considering creating a task force on the matter.

California has announced some changes to start solving homelessness. State lawmakers passed legislation that caps rent increases and the governor announced $1 billion in funding to help the homeless. But numbers from the Department of Housing and Urban Development show California has more work ahead.
The annual data from HUD shows homelessness in California increased by 21,306 people. This is up 16.4% from last year. This is higher than the overall national increase of 2.7%.
Maria Foscarinis is the executive director of the National Law Center on Homelessness and Poverty. She said affordable housing is the solution.

"It's a matter of making this a priority and recognizing that this is something that needs a solution, it affects everybody. Homelessness obviously affects homeless people, but it affects entire communities," said Foscarinis.
Local leaders in California also say that while housing is important in solving homelessness, it's only part of it. They say there must be other services, such as addiction and mental health treatment.
That is the lesson that other states and cities are learning as they grapple with their own homelessness crises.
California is among the hardest hit by the homelessness crisis but it has affected communities up and down the West Coast. Oregon's homeless population increased by more than 9% in 2019. And while Washington State showed a slight decline of 3.3%, Seattle continues to struggle to find solutions for its homeless population.
KOMO News recently reported on the intertwined crises of homelessness, drug addiction and restrictions on law enforcement in an extensive documentary, "Seattle Is Dying." Reporters spoke to residents, business owners and police officers who expressed frustration as they have watched their city change for the worse in recent years.

KOMO reporters also traveled to San Francisco, a city with one of the highest costs of living in the country and one of the largest homeless populations. The documentary looked into possible solutions that have worked in other cities, including medication-assisted treatment for addiction and rehabilitation programs for homeless persons who enter the criminal justice system.
[ABC News]