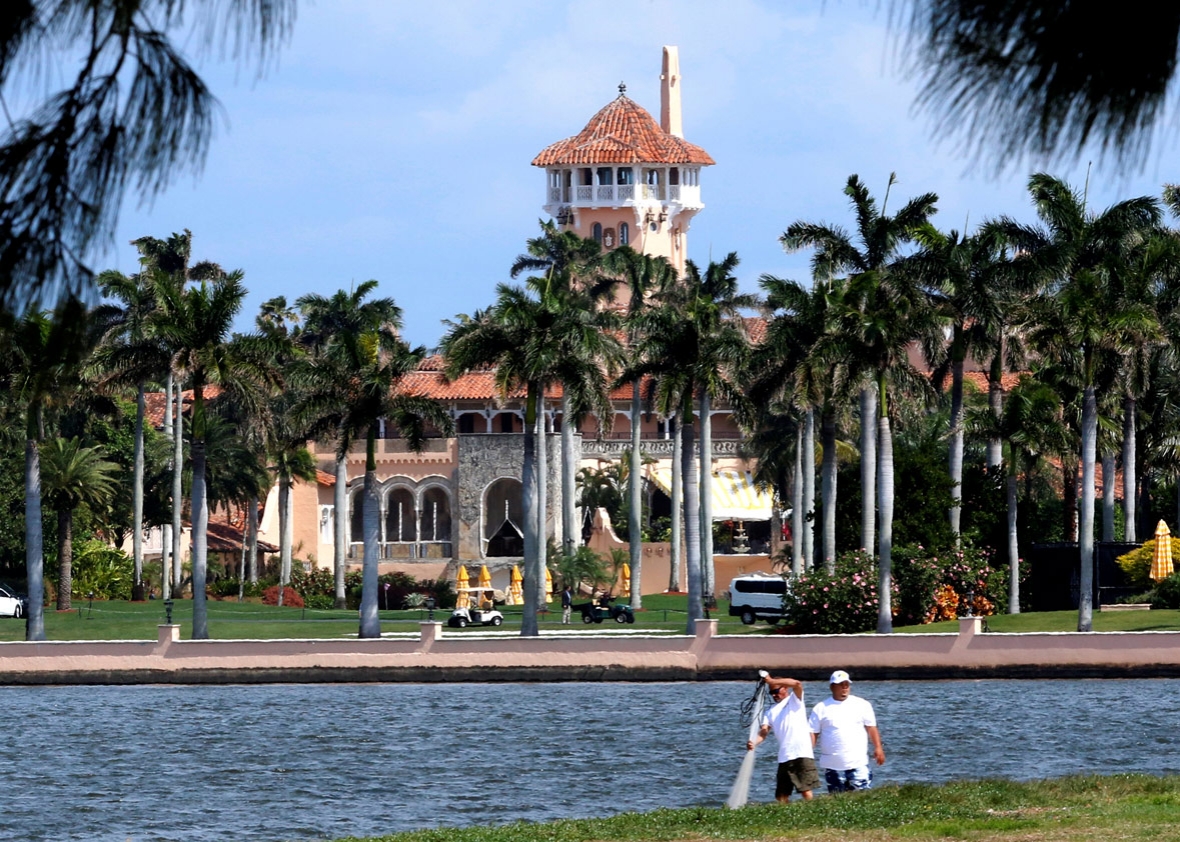 A far-right group that alleges that Islamic extremists are infiltrating the U.S. government is set to hold a banquet this weekend at President Trump's Mar-a-Lago Club, according to permits for the event obtained by The Washington Post.
The Center for Security Policy and its leaders have spread the lie that former President Barack Obama is a Muslim and have also falsely alleged that Muslim organizations in the United States have anti-American beliefs, according to the Post. It is labeled a designated hate group by the Southern Poverty Law Center
The group has rented a ballroom for Saturday at Trump's club in Palm Beach, Fla., for its annual Freedom Flame Award dinner, according to the Post. This is the first time the event, which has previously been held in New York City and Washington, D.C., is being held in Palm Beach, according to the Post's public records request.
The White House declined to comment to the Washington Post, and the Trump Organization did not respond to the newspaper's request for comment.
The permit obtained by the Post says the event will cost approximately $53,000. The organization told the newspaper that it is "a private event."
Fred Fleitz, a former Trump administration official who is the president and chief executive of the Center for Security Policy, told the newspaper after its initial report was published that the group is not prejudiced against Muslims.
"Muslims are part of our country and our society, this is a good thing," Fleitz told PJ Media in January, which he cited to the Post. "But what we don't welcome is the radical ideology that promotes violence."
Trump cited the group's research when he proposed "a total and complete shutdown of Muslims entering the United States" during his presidential campaign in 2015, the BBC reported.
According to the Post, Ibrahim Hooper of the Council on American-Islamic Relations alleged that former Reagan administration official Frank Gaffney – who is the founder of the Center for Security Policy and has ties to the Trump administration – is "one of the key figures in the Islamophobia industry."
"They get the influence they seek by handing him money, and he gets the money," Hooper told the Post.
Earlier this year, ACT for America, which has called Islam a "cancer," was also set to hold a banquet at Mar-a-Lago but later canceled the event, the Washington Post reported.
The Hill has reached out to the White House, the Trump organization and the Center for Security Policy for comment.
[The Hill]