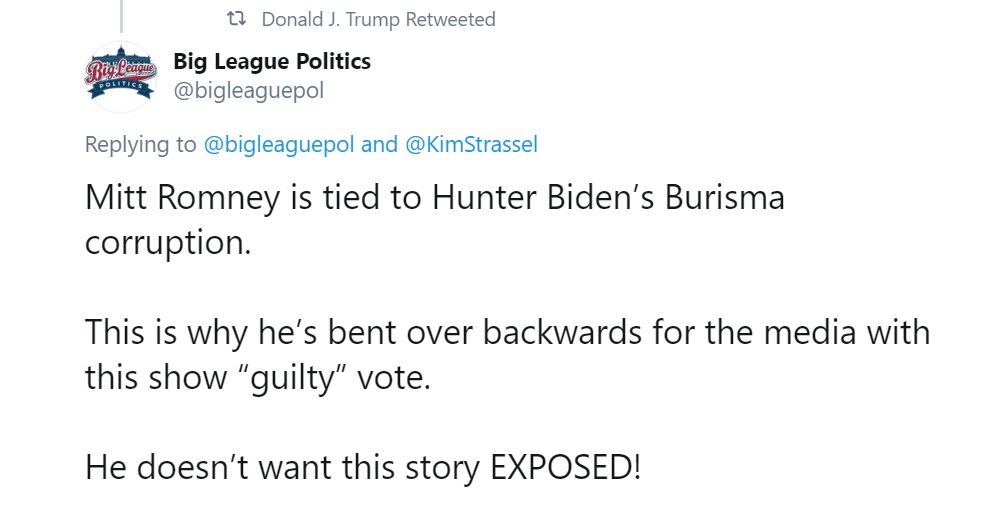 President Donald Trump isn't letting up on Sen. Mitt Romney during his post-acquittal victory lap.
Four days after the end of his impeachment trial, the president spent a sunny Sunday in D.C. continuing a weekend tweetstorm against the proceedings and his perceived foes — particularly targeting Romney, the lone Republican who voted to boot him from the White House.
The president retweeted assertions that Romney "stabbed Trump in the back" by joining Democrats in attempts to overturn the 2016 election, and that the Utah senator was connected to unsubstantiated claims that Hunter Biden, the son of former Vice President Joe Biden, was corruptly involved with the Burisma Holdings energy company in Ukraine.
"Mitt Romney is tied to Hunter Biden's Burisma corruption. This is why he's bent over backwards for the media with this show 'guilty' vote," read a Trump retweet of the website Big League Politics' post. "He doesn't want this story EXPOSED!"
Neither the president nor Big League Politics offered any proof that Romney had been involved with Burisma or Hunter Biden.
The president also fired off his own anti-Romney tweets. "Romney hurt some very good Republican Senators, and he was wrong about the Impeachment Hoax. No clue!" he wrote based off a tweet that Romney's real damage would be to Senate Republicans in tough reelection races.
He later pulled in Sen. Joe Manchin of West Virginia, a red-state Democrat who was considered to be a swing vote on impeachment and whom Trump labeled "weak & pathetic" after Manchin's vote to convict.
"They are really mad at Senator Joe Munchkin in West Virginia," the president wrote. "He couldn't understand the Transcripts. Romney could, but didn't want to!" This seemed to be a reference to a readout of the July phone call between Trump and the Ukrainian president that led to the impeachment inquiry.
Trump's 50-plus tweets and retweets on Sunday included criticism of House Speaker Nancy Pelosi for ripping up a copy of his State of the Union speech, and encouragement for Republican Sens. Lindsey Graham of South Carolina, Chuck Grassley of Iowa and Ron Johnson of Wisconsin to find out "who started the Ukraine 'collusion' narrative." The senators have pledged to investigate Hunter Biden's business activities, even after the impeachment trial's completion.
Appearing on "Face the Nation" on Sunday morning, Graham directly addressed Trump about the origins of the government's investigation into Russian interference in the 2016 election: "If he's watching the show, here's what I would tell the president: I'm going to get to the bottom of the [Foreign Intelligence Surveillance Act] process, because it was an abuse of power at the Department of Justice and the FBI."
[Politico]