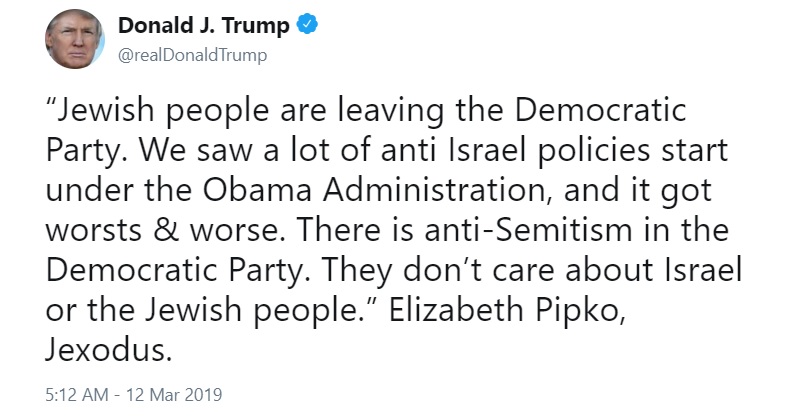 President Donald Trump touted the Fox & Friends appearance of an activist calling for Jewish Americans to walk away from the Democratic party.
"Jexodus," clearly inspired by Candace Owens's "Blexit" gimmick, was announced in the wake of controversial comments from Rep. Ilhan Omar (D-MN) that were condemned by members of her own party as anti-Semitic.
Elizabeth Pipko, a former Trump campaign staffer and a spokesperson for Jexodus, joined Fox & Friends host Steve Doocy in criticizing Democrats for passing a general anti-hate resolution instead of a specific resolution condemning anti-Semitism.
"They are the party of anti-Semitism," Pipko said, echoing the president.
And the president was watching. He tweeted a fake quote from Pipko, which was really just a selective collection of her comments poorly transcribed and smashed together:
In Pipko's interview, Doocy pointed out that in 2016, Hillary Clinton got 71% of the Jewish vote, while Trump got 24%. He asked if she saw that changing in 2020.
Pipko replied that Jexodus is realistic but optimistic. When pressed by Ainsley Earhardt as the why Jews don't support Trump, Pipko made a confession about Jewish Democrats: "I don't think they're going to change."
[Mediaite]