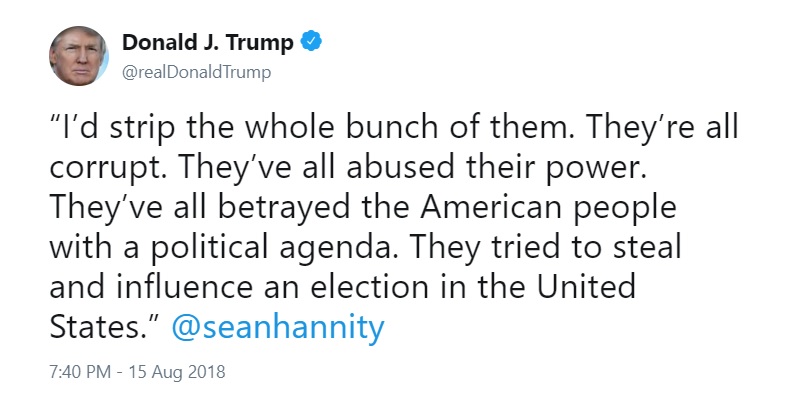 President Donald Trump took to Twitter Wednesday evening to share criticism about ex-CIA director John Brennan that he heard on Fox News.
"'John Brennan is a stain on the Country, we deserve better than this.'" Former Secret Service Agent and author of new book, 'Spygate, the Attempted Sabotage of Donald J. Trump,' Dan Bongino," Trump wrote, referring to the conservative commentator and frequent Fox News guest.
He added: "Thank you Dan, and good luck with the book!"
Bongino's comments came during a discussion of Trump's decision to yank Brennan's security clearance just one day after Brennan criticized him on both Twitter and MSNBC citing Brennan's "erratic behavior."
Speaking to the Wall Street Journalearlier today, Trump pushed back on criticism of his decision, telling the WSJ, "[I] would put a Republican on, too, if I thought they were incompetent or crazy."
Brennan also spoke out on Trump's decision, calling Trump's move an effort to "intimidate and suppress" his critics.
"I do believe that Mr. Trump decided to take this action, as he's done with others, to try to intimidate and suppress any criticism of him or his administration," Brennan said on Wednesday afternoon, after learning he had lost his clearance. "And revoking my security clearances is his way of trying to get back at me."
In addition to using a Fox News quote to slam Brennan, Trump also tweeted out a remark from a Fox News guest who said Hillary Clinton "got a pass by the FBI."
"Hillary Clinton clearly got a pass by the FBI. We have the unfortunate situation where they then decided they were going to frame Donald Trump" concerning the Rigged Witch Hunt. JOE DIGENOVA, former U.S. Attorney.

— Donald J. Trump (@realDonaldTrump) August 16, 2018
Then, later on Wednesday evening, he even tweeted quotes from Sean Hannity's show from Mark Levin and Hannity himself. Hannity said, "I'd strip the whole bunch of them. They're all corrupt. They've all abused their power. They've all betrayed the American people with a political agenda."
Mark Levin "When they had power they didn't stop the Russians, the Chinese, the North Koreans, they funded the Iranians & are responsible for the greatest scandal in American history by interfering with our election & trying to undermine the Trump Campaign and Trump Presidency."

— Donald J. Trump (@realDonaldTrump) August 16, 2018
"I'd strip the whole bunch of them. They're all corrupt. They've all abused their power. They've all betrayed the American people with a political agenda. They tried to steal and influence an election in the United States." @seanhannity

— Donald J. Trump (@realDonaldTrump) August 16, 2018
[Mediaite]