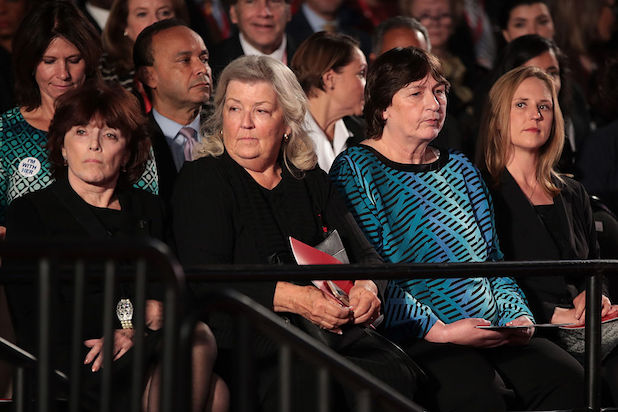 Donald Trump's campaign sought to intimidate Hillary Clinton by inviting women who have accused Bill Clinton of sexual abuse to sit in the family area close to the center of Sunday night's presidential debate.
The four women planned to walk in the debate hall at the same time as the former president and confront him in front of a live television audience, according to sources close to the situation.
The plan was first reported by the Washington Post but was later confirmed by NBC News. It was thwarted moments before the event went on-air when the Commission on Presidential Debates intervened to prevent it, even threatening to get security to block the women.
The four — Juanita Broaddrick, Paula Jones, Kathleen Willey and Kathy Shelton — eventually sat in the audience alongside other ticketed members.
If the plan had gone ahead, the women would have sat in the Trump family box which was in an elevated area close to the stage and in front of the cameras.
"We were going to put the four women in the VIP box," Trump supporter and former New York mayor Rudy Giuliani was quoted as saying by the Washington Post. "We had it all set. We wanted to have them shake hands with Bill, to see if Bill would shake hands with them."
The newspaper said the plot was nixed by Frank J. Fahrenkopf, the debate commission's co-chairman and a former Republican National Committee chairman, who warned that security personnel would remove the women.
Clinton's campaign manager Robby Mook said Hillary knew about what he called an "awkward stunt at the beginning of the debate."
"He wanted to throw Hillary Clinton off her game. And he need to rehabilitate what has been a failing campaign," Mook told reporters."The stunt didn't work and frankly the debate didn't work for Trump because this race fundamentally hasn't changed."
He added: "This was a painful moment in her marriage and it was litigated very heavily 20 years ago … this was an attempt by Donald Trump to throw her off, try to distract. The problem that he has, and the reason he lost this debate, is he has no command of the issues."
Bill Clinton has denied all the allegations lobbed by his accusers and was never charged with any crimes, but was impeached by the Republican House in 1998 for lying about an affair with White House intern Monica Lewinsky.
Broaddrick, who has accused the former president of rape, submitted an affidavit in 1998 denying that Bill Clinton had made nonconsensual sexual advances, which she later recanted.
(h/t NBC News)