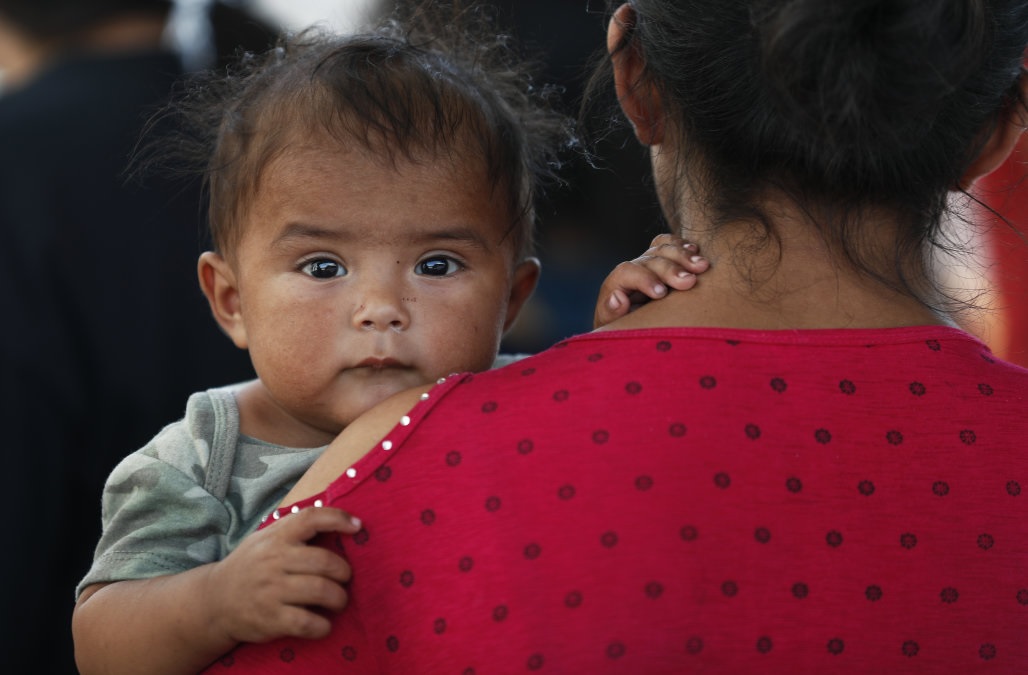 The Trump administration on Wednesday said it would unveil a new rule that would allow migrant families to be held indefinitely, ending a procedure known as the Flores Settlement Agreement that requires children to be held no longer than 20 days.
The decision is a momentous change in detainee policy that the administration has sought as a disincentive for people crossing the border.
"This rule allows the federal government to enforce immigration laws as passed by Congress," acting Homeland Security Secretary Kevin McAleenan said in a statement.
Under the new system, immigrant families could be held for the duration of their court proceedings, which officials claim could be resolved within three months.
McAleenan said the new rule takes aim at a 2015 "reinterpretation of the Flores Settlement Agreement" in which a California district court ruled accompanied minors are subject to the same detention limits as unaccompanied minors.
The 2015 change, McAleenan said, "has generally forced the government to release families into the country after just 20 days, incentivizing illegal entry, adding to the growing backlog in immigration proceedings, and often delaying immigration proceedings for many years."
The Trump administration has frequently blamed Flores for the spike in family border crossings over the last few years, claiming the promise of eventual release creates an incentive to enter the country illegally. On Wednesday, it defended the change as closing a "loophole exploited by human smugglers."
House Homeland Security Committee Chairman Bennie Thompson (D-Miss.), however, panned the move, saying it will "put even more stress on our immigration system and add to the chaos the Administration continues to create."
"The Trump Administration has managed to find a new low in its continued despicable treatment of migrant children and families. Terminating the Flores settlement is illegal and goes against our longstanding American values about the treatment of children," Thompson said in a statement.
The new rule would establish new standards for conditions in detention centers while simultaneously removing the 20-day maximum detention limit that has existed since the original 1997 court ruling.
"Large numbers of alien families are entering illegally across the southern border, hoping that they will be released into the interior rather than detained during their removal proceedings," the two agencies that created the rule, the Department of Homeland Security (DHS) and the Department of Health and Human Services, said in a statement.
"Promulgating this rule and seeking termination of the FSA [Flores Settlement Agreement] are important steps towards an immigration system that is humane and operates consistently with the intent of Congress."
The rule will be published in the Federal Register on Friday and will be effective 60 days later — if it is approved by the courts.
However, the process is likely to take significantly longer.
"Obviously, there will be litigation, as you know, all new immigration rules have faced litigation in my career," said McAleenan.
Under the terms of the 1997 consent decree that eventually led to the 20-day limit in Flores, the regulation must be approved by Judge Dolly M. Gee of United States District Court for the Central District of California, who heard the original case.
Gee, who was appointed by President Obama, denied the administration's request last year to extend family detentions after a 2015 ruling that officials could not hold unaccompanied children in unlicensed facilities longer than 20 days.
The upcoming litigation means the proposed rule could be significantly delayed or sidetracked in the courts.
"This rule contemplates terminating the Flores Settlement Agreement. And actually, there's a legal proceeding just to do that coming out of the implementation. So we do expect litigation but we do hope to be able to implement as soon as possible," said McAleenan.
Trump officials have sought to address Gee's concerns with indefinite detention by creating a federal government licensing regime which includes public audits of facilities conducted by a third party.
And McAleenan painted a rosy picture of family detention units under the new rule.
"For example, the first family residential center in Berks, Pa., has a suite for each family [to be] housed separately. Furniture, bedding, towels, clothing and toiletries are provided," said McAleenan.
He added the facilities would include medical care and educational wings, as well as leisure activities for detainees.
But DHS has bed space for 2,500 to 3,000 individuals in family units at current funding levels, a fraction of the number of Central Americans who claim asylum every month.
McAleenan blamed Congress, where Democrats worked to limit the administration's capability to detain immigrants, for the limited facilities.
"Just a quick reminder, we did ask Congress for additional family beds in the 2019 budget process and the supplemental, and we did not receive them. So I think that's important to recall," said McAleenan.
Additional legal challenges to the rule are likely from immigration advocacy groups.
The American Civil Liberties Union, which has fought several Trump administration immigration policies, slammed the rule as "yet another cruel attack on children."
"The government should NOT be jailing kids, and certainly shouldn't be seeking to put more kids in jail for longer," the group tweeted.
"This is yet another cruel attack on children, who this administration has targeted again and again with its anti-immigrant policies."
McAleenan said the "multihundred-page rule" would preserve the original intent of Flores, granting asylum-seeking families a safe place to live while their cases go through immigration courts.
The rule comes amid a flood of federal action to limit both legal and illegal immigration, and another lengthy rule to submit documented immigrants to a "public charge" test that's been shown to be rife with inconsistencies.
That rule would make a receipt of public benefits, like food stamps or Medicaid, a negative factor when considering a noncitizen's application for a visa or green card.
Earlier in the summer, the administration announced a rule expanding authority for expedited deportation, where immigration cases are not reviewed by judges, from within 100 miles of the border to anywhere in the U.S.
It also promulgated a rule which would deny asylum claims for immigrants who pass through another country before reaching the southern border.
All of those moves, which experts say would severely limit immigration, face legal challenges.
[The Hill]