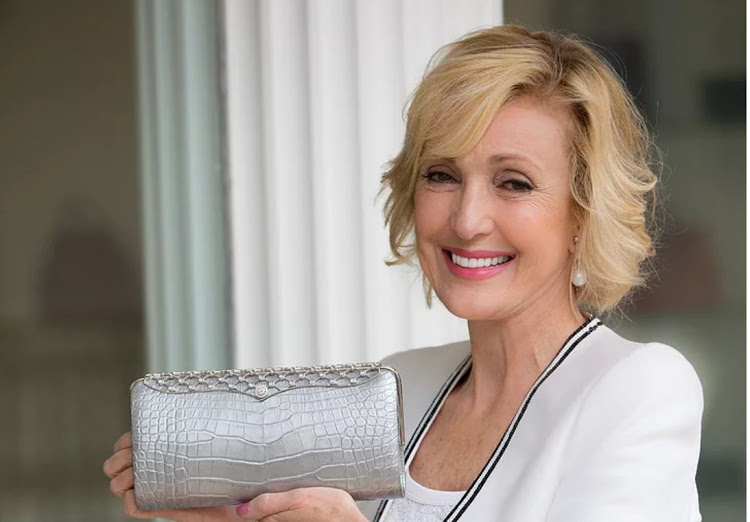 President Donald Trump has nominated handbag designer Lana Marks to be the next US ambassador to South Africa.
Marks, a Florida resident and member of Trump's exclusive Mar-a-Lago resort, according to a source familiar with the club, was born and raised in South Africa, where she attended the University of the Witwatersrand and the Institute of Personnel Management in Johannesburg, the White House said in a statement.
Marks is photographed and quoted giving a warm testimonial on the website of Mar-a-Lago's official photographer, saying she had captured her daughter's wedding at the club "in a very special way."
Marks is known for luxury handbags in exotic animal skins, such as ostrich and alligator, with prices that can hover above $19,000. One of her more expensive creations, a $400,000 clutch, has been carried on the red carpet. The designer's website features photos of celebrities such as Jennifer Aniston carrying her goods and says her accessories have become a favorite among "royalty and entertainment style makers."
Ballet and tennis
Described by the Palm Beach Daily as "like Trump, a relentless self-promoter," Marks speaks Afrikaans and Xhosa, two of South Africa's languages, according to the White House.
Her website chronicles an upbringing that included studying at the Royal Academy of Ballet. The concept for starting an exotic leather handbag line came, the site says, when Marks couldn't find a bag to match the suit she planned to wear to a birthday celebration for Queen Elizabeth. According to her Instagram accountshe attempted to qualify for the French Open tennis tournament in 1978.
Marks' site also notes that she was appointed to the Women's Leadership Board at Harvard University's Kennedy School of government, which supports the Women and Public Policy Program. Both the board and the program focus on gender equality and improving lives around the world, the Harvard site says. The Harvard site notes that board members "engage philanthropically" with the policy program "through three annual giving tiers."
Board members provide a minimum annual gift of $10,000 per individual member, $20,000 per Leadership Circle member and $25,000 per corporation.
[CNN]