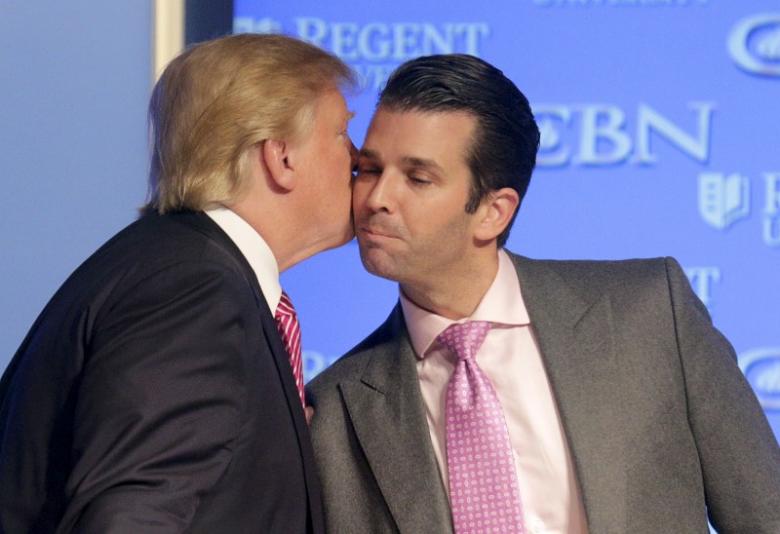 One of Donald Trump's sons appeared along with a white supremacist while giving an interview on a conservative radio show, adding to concerns that the front-runner in the battle to be the Republican candidate in November's presidential election is willing to accept support from extremist supporters.
Donald Trump Jr., who is actively campaigning for his father, gave an interview on Tuesday on "Liberty Roundtable," a conservative Utah-based radio show hosted by Sam Bushman.
During the show he was questioned by James Edwards, another radio host whose show "The Political Cesspool" is described by the Southern Poverty Law Center, a leading U.S. civil rights group, as "racist and anti-Semitic."
During the interview, conducted over the telephone, Trump Jr. talked about what a good father Donald Trump was and how his campaign is changing the Republican Party.
"It's not a campaign anymore, it's a movement," he told his interviewers. (here)
Edwards said on his blog on Tuesday he would rebroadcast the 20-minute interview on Saturday on "The Political Cesspool." here
The show, founded in 2005 and syndicated by Bushman's Liberty News Radio organization, has featured such extremists as former Ku Klux Klan leader David Duke and Holocaust denier Willis Carto.
Edwards also said on his blog he had attended a Memphis rally for the billionaire candidate as a credentialed media member last Saturday.
The Trump campaign, asked about an interview in the presence of the Tennessee-based Edwards, denied any knowledge of it. The campaign also said it did not know about Edwards' personal views.
"The campaign provided media credentials to everyone that requested access to the event on Saturday in Memphis. There were close to 200 reporters in attendance and we do not personally vet each individual. The campaign had no knowledge of his personal views and strongly condemns them.
"Donald Trump Jr. was not in attendance and although he served as a surrogate for his father on several radio programs over the past week, to his knowledge and that of the campaign, he did not participate in an interview with this individual," campaign spokeswoman Hope Hicks said in an email.
Edwards, in an email, directed questions about the interview to Bushman, but said in a statement:
"My show, The Political Cesspool, promotes a proud, paleoconservative Christian worldview, and we reject media descriptions of our work as "white supremacist," "pro-slavery" and other such scare words.
"As I clearly wrote in yesterday's article, in no way should anyone interpret our press credentialing and subsequent interview with Donald Trump, Jr. as any kind of endorsement by the Trump campaign."
Donald Trump won a majority of the states holding nominating contests on Super Tuesday, accelerating his march to the Republican nomination.
He has promised to build a wall on the Mexican border, temporarily ban Muslims from entering the United States and block Syrian refugees because they might be militants, all policies popular with some U.S. right-wing groups.
Republican leaders in the U.S. Congress on Tuesday condemned white supremacist groups after Trump earlier failed to disavow support for former Klan leader Duke, but the leaders declined further comment on Trump's White House bid.
House of Representatives Speaker Paul Ryan said any Republican nominee must reject any group "built on bigotry" while Senate leader Mitch McConnell said Senate Republicans condemned groups such as the Klan and "everything they stand for."
(h/t Reuters)
Reality
Journalists have noticed that Donald Trump Jr. follows and retweets many known white supremacists in the alt-right movement on his Twitter account, including users The Occidental Observer, @Bidenshairplugs and @Ricky_Vaughn99.