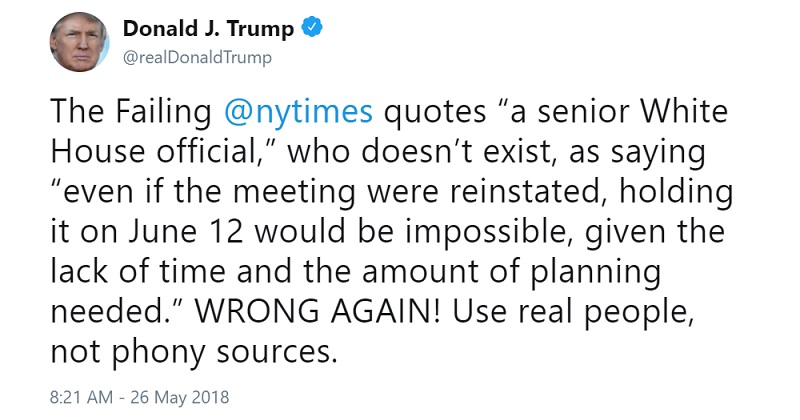 New audio of a White House senior official briefing reporters disproves an assertion that President Donald Trump made in a tweet Saturday that a source quoted in the New York Times "doesn't exist."
According to the Times, the official said that "even if the meeting [with North Korea] were reinstated, holding it on June 12 would be impossible, given the lack of time and the amount of planning needed."
Trump held that the source was "phony" in his tweet:
The Failing @nytimes quotes "a senior White House official," who doesn't exist, as saying "even if the meeting were reinstated, holding it on June 12 would be impossible, given the lack of time and the amount of planning needed." WRONG AGAIN! Use real people, not phony sources.

— Donald J. Trump (@realDonaldTrump) May 26, 2018
Multiple reporters refuted this claim, saying that the quote came from a background briefing that an aide gave hundreds of reporters.
Journalist Yashar Ali tweeted out the audio of this briefing, proving that the reporters were indeed correct.
4. I've obtained audio of the WH press briefing. You can hear Raj Shah, Deputy Press Secretary, introduce Pottinger (along with the terms – which are standard) and then Pottinger makes the statement that POTUS says was never made. Lots of reporters in briefing room and on phone. pic.twitter.com/2gEYkRSyTv

— Yashar Ali 🐘 (@yashar) May 26, 2018
Deputy White House Press Secretary Raj Shah can be heard introducing the aide as Matt Pottinger, deputy assistant to the president for Asia, and instructing reporters to refer to him as a senior White House official.
[Mediaite]