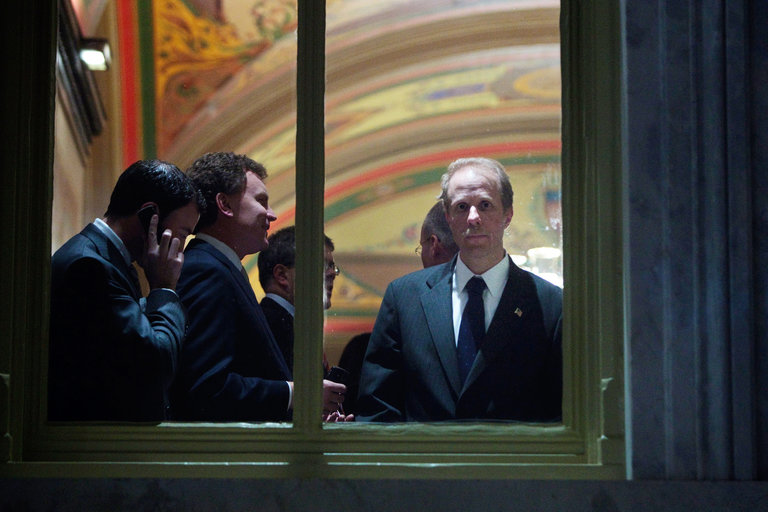 President Trump is planning to ask a member of his economic advisory council to lead a review of the U.S. intelligence community, The New York Times reported on Wednesday.
According to the newspaper, Stephen Feinberg, a co-founder of Cerberus Capital Management, has informed his company's shareholders that he is currently considering a move to join the Trump administration.
Feinberg also maintains strong ties to top Trump officials, including chief strategist Stephen Bannon and senior adviser Jared Kushner, who is also President Trump's son-in-law.
Both officials declined to comment on The New York Times report.
Top intelligence officials told the Times they fear that the businessman is being prepped for a position within the intelligence community.
According to the paper, Feinberg's only national security experience stems from his company's involvement with a private security company and two gun manufacturers.
The possible review of intelligence agencies comes in the wake of Trump's renewed feud with the intelligence community over leaks that led to the ousting of national security adviser Michael Flynn.
"From intelligence, papers are being leaked, things are being leaked; it's criminal action. It's a criminal act, and it's been going on for a long time before me, but now it's really going on," Trump said Wednesday.
"The real scandal here is that classified information is illegally given out by 'intelligence' like candy. Very un-American!" the president also tweeted.
House Oversight Committee Chairman Rep. Jason Chaffetz (R-Utah) and the chairman of the House Judiciary Committee, Rep. Bob Goodlatte (R-Va.), on Wednesday formally asked the Justice Department's inspector general to further investigate the leaks.
"We have serious concerns about the potential protection of classified information here. … The release of classified information can, by definition, have grave effects on national security. In light of this, we request that your office begin an immediate investigation into whether classified information was mishandled here," the lawmakers wrote.
(h/t The Hill)