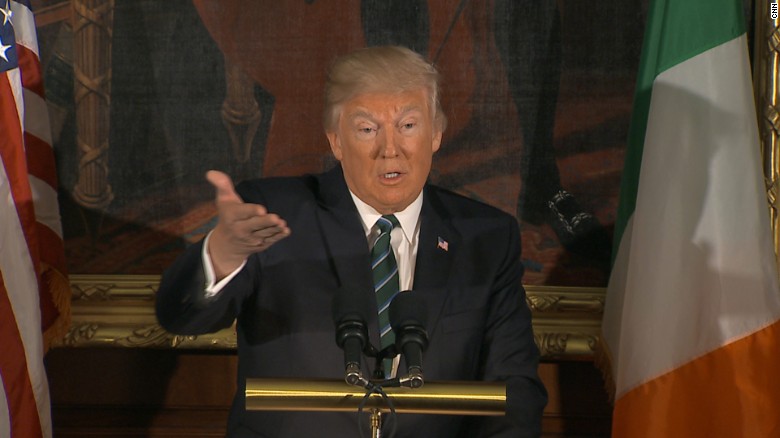 During the annual White House meeting with the Irish Prime Minister on Thursday, President Donald Trump shared one of his favorite proverbs with Taoiseach Enda Kenny.
The only problem was, as many pointed out on social media after the meeting's broadcast, it may not have been an Irish proverb at all.
"As we stand together with our Irish friends, I'm reminded of a proverb — and this is a good one, this is one I like. I've heard it for many, many years and I love it," Trump said. "Always remember to forget the friends that proved untrue, but never forget to remember those that have stuck by you."
The proverb that Trump cited does indeed appear on a few websites that list "St. Patrick's Day Blessings" and in a few memes dotting Pinterest and Instagram profiles.
But as viewers were quick to point out after Trump's meeting with Kenny aired on MSNBC, a Google search for the proverb quickly leads to a longer poem posted online in January 2013 by a Nigerian Muslim bank manager named Albasheer Adam Alhassan.
The 32-year-old told NBC News he wrote the poem in 2001 when he was a teenager, "when no one in Nigeria had access to the internet."
The mystery continues to unfurl over where, exactly, Trump found the stanza. Similar quotes appear in books published in 1997 and as far back as 1936, as The Guardian discovered on Friday, but none cite the passage as Irish.
Irish social media users also weighed in, with some — including Twitter's former Ireland director Mark Little — highly skeptical that a quote they'd never heard of was indeed an old proverb from the Emerald Isle.
"Irish Proverb" me hole. https://t.co/dWLregquCs

— mark little (@marklittlenews) March 16, 2017
With all due respect to the president's reputation for scrupulously checking his sources, I don't think this is an Irish proverb. https://t.co/1EvGGMsE9r

— The Irish For 🏌🐕 (@theirishfor) March 16, 2017
Regardless of where the quote came from, the bulk of social media responses pointed to Alhassan's poem as a suspected source — noting its prominence in Google search results.
"I'm actually surprised because I'm wondering how someone like the American president got to find a poem that I just posted on the internet," said Alhassan.
"I have no idea how he found it," said Alhassan, who told NBC News that his religion is Islam.
Trump's favorite Irish proverb that he struggled to read aloud was written by Albashir Adam Alhassan, a Nigerian. https://t.co/sk8yIcRgiD

— Fuzzy Dunlop (@BillsNewAccount) March 16, 2017
Trump's "favorite Irish proverb" is actually a poem written by a Nigerian… and that is why we need public arts funding😑

— Hannah Weaver (@hannahweaver001) March 17, 2017
One of his staff is definitely trolling him now, and it's brilliant
Trump: 'quick, find me an Irish proverb!'
Staffer: 'Sure Mr President.. https://t.co/cCuOyh1afV

— Vanessa Furey (@VanessaFurey) March 16, 2017
NBC News reached out to the White House to ask whether it's possible a mistake was made, and to verify the source of the proverb. The White House did not immediately respond.
Alhassan told NBC News that he's been writing poetry since 2001, but doesn't have much time for it these days due to his position at the First Bank of Nigeria, the country's largest. Of the poem "Remember to Forget," he said the subject was "human nature."
"I noticed that people are always nice to you when they need something but when they get what they want they abandon you," said Alhassan of the poem's meaning. "People use you as tools."
He couldn't explain how the poem he claimed as his own had appeared in several other books. He was adamant it was his own work.
Alhassan described himself as an introvert, and said when he was younger he preferred writing to going out and playing with friends. He was just sharing his thoughts, he said, when he posted the poems online, and never expected a powerful U.S. president to come across them — much less to conflate them with Ireland.
"I don't know why he related it to St Patrick's Day — it's got nothing to do with that," said Alhassan. "It's just based on my personal experiences."
The irony of an African Muslim's words potentially being read by a president who promised during the campaign to ban Muslims from the U.S. is not lost on Alhassan, who said he disagrees with Trump's travel ban.
"I think that policy is very harsh. There is a big difference between the way people see Islam and how it actually is," Alhassan said.
Like many, Alhassan wants to stay positive about Trump's presidency and said he doesn't necessarily want to be part of a chorus of critics.
At the same time, said Alhassan, "There are some policies that do not favor the blacks and religious beliefs."
(h/t NBC News)
Media
https://www.youtube.com/watch?v=Kcs29Zf05BQ