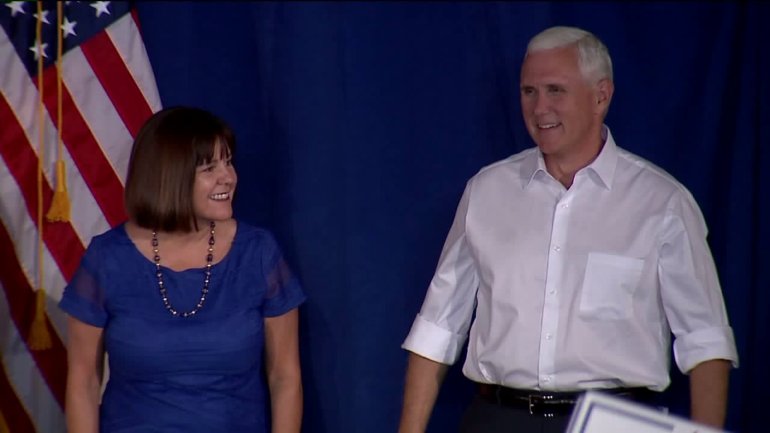 Donald Trump's campaign has denied press credentials to a number of disfavored media organizations, including The Washington Post, but on Wednesday, the campaign of his running mate, Indiana Gov. Mike Pence, went even further.
At Pence's first public event since he was introduced as the Republican vice-presidential candidate two weeks ago, a Post reporter was barred from entering the venue after security staffers summoned local police to pat him down in a search for his cellphone.
Pence's campaign expressed embarrassment and regret about the episode, which an official blamed on overzealous campaign volunteers.
Post reporter Jose A. DelReal sought to cover Pence's rally at the Waukesha County Exposition Center outside Milwaukee, but he was turned down for a credential beforehand by volunteers at a press check-in table.
DelReal then tried to enter via the general-admission line, as Post reporters have done without incident since Trump last month banned the newspaper from his events. He was stopped there by a private security official who told him he couldn't enter the building with his laptop and cellphone. When DelReal asked whether others attending the rally could enter with their cellphones, he said the unidentified official replied, "Not if they work for The Washington Post."
After placing his computer and phone in his car, DelReal returned to the line and was detained again by security personnel, who summoned two county sheriff's deputies. The officers patted down DelReal's legs and torso, seeking his phone, the reporter said.
When the officers — whom DelReal identified as Deputy John Lappley and Capt. Michelle Larsuel — verified that he wasn't carrying a phone, the reporter asked to be admitted. The security person declined. "He said, 'I don't want you here. You have to go,' " DelReal said.
The security person wouldn't give his name when DelReal asked him to identify himself. He also denied DelReal's request to speak to a campaign press representative as he escorted the journalist out.
Officials of the Waukesha County Sheriff's Department were unavailable for comment Wednesday night.
Trump has banned nearly a dozen news organizations whose coverage has displeased him, but reporters have generally been able to cover his events by going through general admission lines.
The incident involving DelReal marks another in a series of run-ins between the news media and the campaign.
Reality
Donald Trump and his campaign have a history of being anti-1st-amendment, but yet super-pro-2nd-amendement. This should be very scary for anyone living in this country.
The roll of a free press is paramount to our liberty and separates us from authoritarian regimes, like Russia, who have state-run press. The job of journalists — at The Post and everywhere else — is to give voters the fullest and most accurate picture of the two people who want to represent all of us as president.
The problem with what Trump is doing is that he is revoking access because he disagrees with the coverage. Not because the Washington Post has the facts wrong. It's because he doesn't like how the facts are being presented.
So far Trump has revoked access to the following news outlets:
The National Review
The Daily Beast
Huffington Post

Buzzfeed

Washington Post
Politico
DMR