Trump Supporter Puts Protester in a Headlock and Tries to Drag Him Away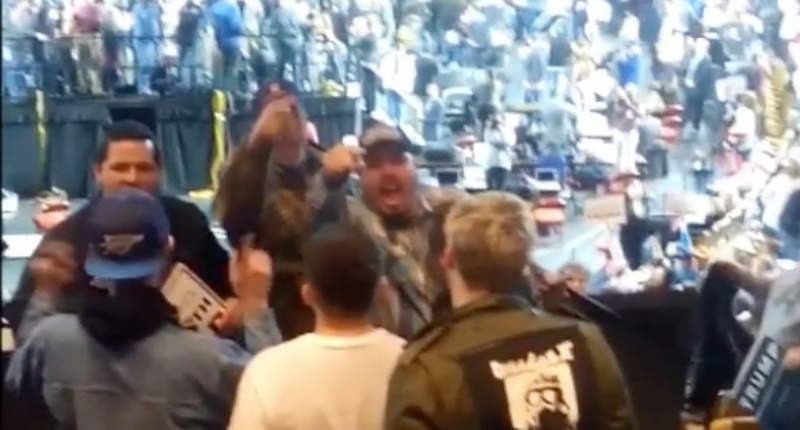 A new video shows Donald Trump supporters assaulting protesters who were engaged in a peaceful demonstration.
The 1:44 minute clip was captured during a Trump rally at Oral Roberts University's Mabee Center in Tulsa, Oklahoma. Sarah Palin, who endorsed him earlier this week, joined the multi-billionaire at the rally yesterday.
At the beginning of the clip—which was recorded as the Republican frontrunner was wrapping up his remarks—four Trump supporters block the view of two protesters. One of the men then shoves the two protesters. A volley of words ensued between the two groups, while other rally goers can be heard yelling at the protesters, "Get out!"
At the 50 second mark a big, burly man wearing a cowboy hat puts one of the protesters in a headlock from behind and attempts to drag him away.  As Trump is boasting, "We're going to win so much. . . you people are going to get sick and tired of winning", security arrives, breaks up the melee, and presumably escorts the protesters out.
Reality
Violence at Trump rallies by supporters is the norm.
Media
Links
http://www.rawstory.com/2016/01/watch-enraged-trump-supporter-puts-protester-in-a-headlock-and-tries-to-drag-him-away/
http://www.tulsaworld.com/news/elections/trump-embraces-angry-voters-at-boisterous-tulsa-rally/article_70e04a75-9b65-5ebc-a2de-1914e2118ee8.html