Donald Trump Throws a Grand Old Party to Avoid a Debate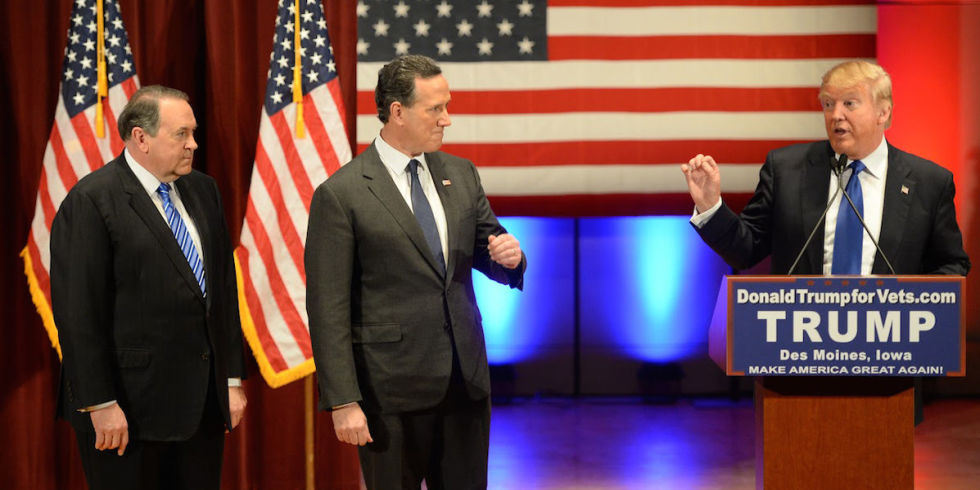 No one ever really doubted that Donald Trump could pull off a major counter-programing feat — even when competing with a GOP debate that was expected to draw millions of viewers.
He did it Thursday night, dazzling a crowd of hundreds of enthusiastic supporters by announcing that he had raised more than $6 million for veterans in one day — $1 million of it from his own checkbook. "We love our vets," he said.
"You know, my whole theme is make America great again and that's what we're going to do — and we wouldn't have even been here if it weren't for our vets," Trump said.
Even Trump seemed a bit surprised that he had pulled off his stunt: "Look at all the cameras. This is like the Academy Awards," the real estate magnate said as he took the stage in an auditorium at Drake University about 20 minutes after the debate began a few miles away. "We're actually told that we have more cameras than they do by quite a bit, and you know what that's really in honor of our vets."
The rally was a restrained performance by Trump standards. He dispensed with his usual riff about his poll numbers and mostly avoided jabs at his fellow candidates (with the exception of a "low-energy" shot at Jeb Bush).
Instead he delivered a speech mostly focused on the problems veterans have faced when returning from Iraq and Afghanistan — inadequate healthcare and housing, drug abuse, mental health issues and homelessness.
"Our vets are being mistreated. Illegal immigrants are treated better in many cases than our vets and it's not going to happen any more. It's not going to happen any more."
Clearly enjoying his evening away from the debate, Trump also told the audience what could be another media sensation for his campaign: the fact that his daughter Ivanka is pregnant. "Ivanka, I said, it would be so great if you had your baby in Iowa. It would be so great — I'd definitely win!"
(h/t CNN)
Reality
Trump lost Iowa. He acknowledged that this event may have backfired. Voters in the Hawkeye State take their responsibly of being first seriously, and the debate that Trump skipped was the final, and critically important, debate ahead of the caucuses. "I think some people were disappointed that I didn't go into the debate," Trump said while in New Hampshire.
The fact is Trump did not attend the seventh Republican debate and instead hosted a rival event due to his intense fear of Megyn Kelly and the hilarious response by Fox News that mocked his inability to handle simple questions from reporters.
Trump was also criticized by also overselling the event and not managing it well. According to a statement by Drake University, the location for Trump's Thursday night event, the auditorium is limited to a 700-person capacity, but the event had been "significantly over-ticketed by the Trump campaign."
It is important to note that in 2012 when Michelle Bachmann skipped a debate hosted by Newsmax, someone had some choice critical words for her:
Michele Bachmann just dropped out of prez race— when she didn't do the Newsmax debate it showed great disloyalty and people rejected her.

— Donald J. Trump (@realDonaldTrump) January 4, 2012
I was on a tele-townhall with @TeamBachmann and hosted her 4 times in Trump Tower yet she declined the Newsmax-@iontv debate. No loyalty.

— Donald J. Trump (@realDonaldTrump) December 12, 2011
On the plus side, Trump raised a very impressive $6 million dollars for veterans. Or did he?
Media
https://www.youtube.com/watch?v=9jWb1v8lnjw