Trump Flip-Flops on Raising the Minimum Wage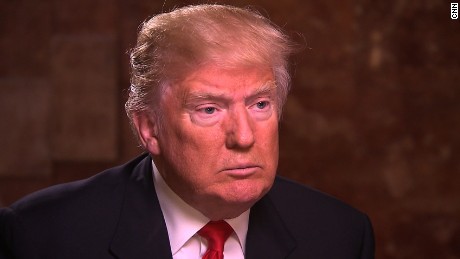 In a reversal, Donald Trump expressed openness to raising the federal minimum wage during an interview on Wednesday.
"I'm looking at that, I'm very different from most Republicans," the presumptive GOP presidential nominee told CNN Wednesday about the prospect of increasing wages.
You have to have something you can live on. But what I 'm really looking to do is get people great jobs so they make much more money than that, much more money than the $15.
The federal minimum wage is $7.25, but labor groups have been pushing for it to be raised to $15.
During a November debate, Trump voiced opposition to raising the minimum wage.
"I hate to say it, but we have to leave it the way it is," he said during the debate.
During a November appearance on MSNBC's "Morning Joe," Trump said the current minimum wage is too high and was slowing job growth.
"We have to become competitive with the world. Our taxes are too high, our wages are too high, everything is too high," he said. "What's going to happen is now people are going to start firing people."
On Wednesday, Trump did caution that lawmakers would have to be careful not to raise the minimum too much.
"If you start playing around too much with that lower level number, you are not going to be competitive," he said, before reiterating that he's "open to doing something" with the federal minimum wage.
Democratic front-runner Hillary Clinton backs a $12 minimum wage and has supported local attempts to push for $15 per hour; her rival, Bernie Sanders, supports a $15 federal minimum wage.
Republicans at large are against raising that number. Rick Santorum is the only GOP presidential candidate who backed raising the minimum wage. Ben Carson briefly signaled openness before walking that back.
(h/t The Hill)
Reality
Just a few months ago Trump said he would lower the minimum wage during a Republican debate:
Taxes too high, wages too high.
And again on Fox News he doubled-down:
Whether it's taxes or wages, if they're too high we're not going to be able to compete with other countries.
And then he told auto workers right to their faces that they make too much money.
Media
Donald Trump: I'm open to doing something on the minimum wage https://t.co/6OZtrfIwim https://t.co/pWIfjE8MhH

— CNN Politics (@CNNPolitics) May 4, 2016