Protesters Attack Trump Supporters After San Jose Speech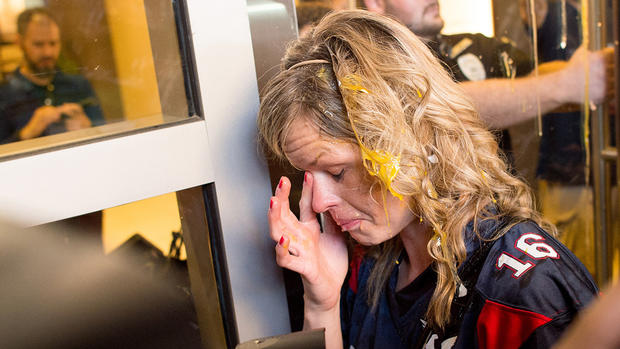 Protests outside a Donald Trump rally in San Jose, California, descended into violence on Thursday night, with supporters clashing with anti-Trump demonstrators in running-battles around the convention center where the candidate spoke.
Hundreds of protesters, many of them Latino students and a large contingent of union members, had gathered peacefully outside in the late afternoon, at times jeering at his supporters as they passed by.
But after the rally finished, the protests turned violent as anti-Trump demonstrators chased – and in some cases punched and attacked – departing Trump supporters, some of whom appeared intent on provoking and fighting as well, while other protesters tried to prevent the attacks. Eventually riot police were deployed to control the crowd.
Inside the rally, the presumptive Republican nominee for president struck out at his main rival, Hillary Clinton, after her fiery attacks on him earlier in the day. In a blistering speech in San Diego on national security, the Democratic frontrunner lambasted him as " temperamentally unfit" to be president and castigated his "thin skin".
Trump, his voice brash, responded, saying he had thick skin instead of thin, but attacked her over her email controversy, even hinting that if he was elected he would send the former secretary of state to jail. He also said Clinton "wants to abolish the second amendment" and called her speech "pathetic".
Sgt Enrique Garcia of the San Jose police department said police made "a few" arrests but could not provide details on numbers or charges. "There has been no significant property damage reported. One officer was assaulted," he said.
The Clinton camp was quick to denounce the violence, with campaign chairman John Podesta tweeting: "Violence against supporters of any candidate has no place in this election."
But the mayor of San Jose, Sam Liccardo, laid the blame squarely at Trump's door. "We don't appreciate [anyone] utilizing campaign tactics of demagoguery, and pitting members of our community against one another to propel their own political ambitions," he told the Guardian.
The protests had started peacefully in the afternoon. Pooja Bachan, 18, attended with a group of her classmates who arrived from their high school graduation ceremony wearing baby-blue caps and gowns. "Donald Trump is misogynistic, xenophobic and racist," she said. "I don't support that for this country."
"I have family members who are illegal immigrants and they're scared," said Monse Lozano, 18, of San Jose. "I'm a citizen and I can't do much for them."
Other demonstrators waved Mexican flags and chanted in Spanish and English. One man yelled at Trump supporters entering the arena: "Somos mas Americanos que todos ellos."
Trump spoke to an audience of around 5,000 supporters, who barely filled a third of the cavernous space attached to the San Jose convention center. After his speech, as Trump supporters began trickling out of the venue, the tenor of the crowd outside shifted.
Bands of mostly young male protesters began chasing, and in some instances attacking, Trump supporters. As more fights broke out between pro- and anti-Trump people, the situation grew chaotic. After being spat on and punched by a protester, one Trump supporter turned to hit back and appeared to accidentally hit a pregnant woman standing next to his attacker, which further angered the crowd surrounding him.
The crowd moved into the street and began blocking traffic, while police maintained their distance. Some Trump supporters waded into the crowd, seeming intent on provoking scuffles.
Several protesters snatched red "Make America Great Again" hats from supporters, setting them on fire. Some burned small American flags and ripped up Trump signs.
At one point, a group of protesters entered the convention center parking lot, where Trump supporters were attempting to leave. Some banged on cars, yelling at the occupants, and one SUV's tail light was broken. As protesters attempted to surround a Corvette, the driver gunned the engine, almost hitting several people and sending the protesters running.
"Now that I've turned 18, I want to be out there and stand up for what I believe," said Martha Garcia, a student from San Jose, early in the afternoon. "The blood that runs through my veins is Mexican."
As night fell, and riot cops began to move in on the protesters, Garcia expressed disappointment in the violence. "It's sad to see San Jose representing like this. Trump is the one igniting the hate. You can't fight fire with fire," she said.
Carlos Ceballos, an iron worker from Salinas who travelled to San Jose to protest Trump, was more understanding of the violent outbursts. "I guess it happens to the best of us," he said as the final protesters retreated from riot cops. Ceballos said he does not like Trump supporters, but as for Trump himself, "I hate him."
(h/t The Guardian)
Reality
Violence has no place in our political process and should be condemned from all sides.
Donald Trump says a lot of divisive and hateful statements, escalation of tensions may only seem natural. However as a protester, engaging in violence only plays into the hands of Donald Trump and his supporters. It gives them justification for their false sense of being victimized and allows them to paint the opposition as "thugs" and side-step our real and valid arguments.
Media
https://www.youtube.com/watch?v=A-1aSn_Pnhk