Justice Ruth Bader Ginsburg Calls Trump a 'Faker,' He Says She Should Resign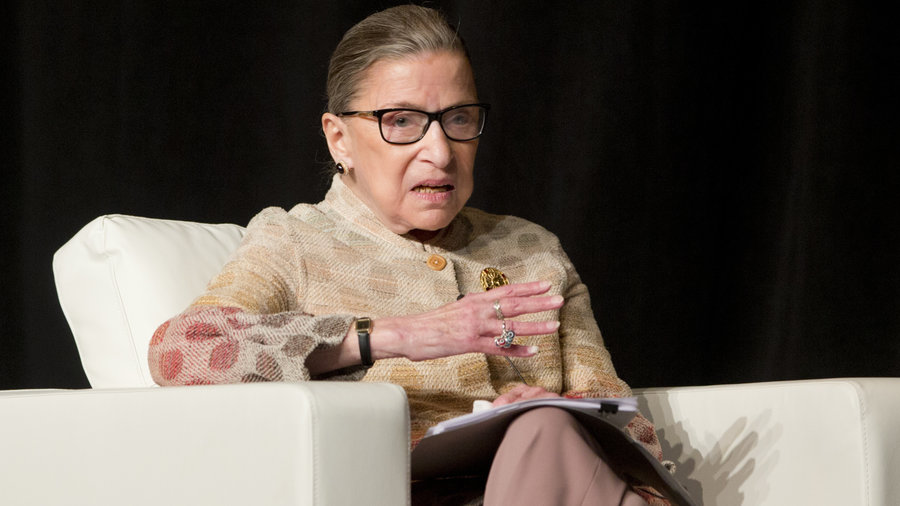 Supreme Court Justice Ruth Bader Ginsburg's well-known candor was on display in her chambers late Monday, when she declined to retreat from her earlier criticism of Donald Trump and even elaborated on it.
"He is a faker," she said of the presumptive Republican presidential nominee, going point by point, as if presenting a legal brief. "He has no consistency about him. He says whatever comes into his head at the moment. He really has an ego. … How has he gotten away with not turning over his tax returns? The press seems to be very gentle with him on that."
She has been surprisingly outspoken about the presidential election in recent days, starting Friday, when she told The Associated Press "everything would be up for grabs" if Donald Trump were to win the White House.
In an interview published Sunday, she told The New York Times that she couldn't picture America under a Trump presidency.
"I can't imagine what this place would be — I can't imagine what the country would be — with Donald Trump as our president," she said. "For the country, it could be four years. For the court, it could be — I don't even want to contemplate that."
"At first I thought it was funny," she said of Trump's early candidacy. "To think that there's a possibility that he could be president … " Her voice trailed off gloomily.
"I think he has gotten so much free publicity," she added, drawing a contrast between what she believes is tougher media treatment of Democratic candidate Hillary Clinton and returning to an overriding complaint: "Every other presidential candidate has turned over tax returns."
Trump responded Wednesday morning by calling on Ginsburg to resign.
Justice Ginsburg of the U.S. Supreme Court has embarrassed all by making very dumb political statements about me. Her mind is shot – resign!

— Donald J. Trump (@realDonaldTrump) July 13, 2016
Ginsburg was appointed to the high court by President Bill Clinton in 1993, and is now the senior member of the liberal wing and leading voice countering conservative Chief Justice Roberts. She has drawn a cult-like following among young people who have nicknamed her The Notorious R.B.G., a play on American rapper The Notorious B.I.G.
Reality
In the case of Trump v. Ginsburg, The New York Times and Washington Post's editorial boards are siding with the presumptive Republican presidential nominee.
Put simply, the Times ruled that Trump is right. "Justice Ruth Bader Ginsburg needs to drop the political punditry and the name-calling," its editorial board wrote Wednesday.
Following Trump's criticism of a federal judge over his Mexican heritage, the Times found it "baffling that Justice Ginsburg would choose to descend toward his level and call her own commitment to impartiality into question," the newspaper wrote. "Washington is more than partisan enough without the spectacle of a Supreme Court justice flinging herself into the mosh pit."
The Washington Post concurred with the Times' opinion and even Ginsburg's statements to the media, which the newspaper said it didn't find surprising.
"However valid her comments may have been, though, and however in keeping with her known political bent, they were still much, much better left unsaid by a member of the Supreme Court," its editorial board wrote.
The Post cited the Code of Conduct for U.S. judges, which states that judges shouldn't publicly endorse or oppose any candidate for public office, and argued that any politicization — real or not — undermines the public's faith in an impartial court.
"As journalists, we generally favor more openness and disclosure from public figures rather than less," the Post wrote. "Yet Justice Ginsburg's off-the-cuff remarks about the campaign fall into that limited category of candor that we can't admire, because it's inconsistent with her function in our democratic system."