Trump Defies Law Forbidding Campaigns From Asking Foreigners for Donations
Donald Trump's campaign is still soliciting illegal donations from foreign individuals – including members of foreign governments at their official email addresses — weeks after the campaign was put on notice by watchdog groups.
Foreign members of parliament from the United Kingdom and Australia confirmed to The Hill that they received fundraising solicitations from the Trump campaign as recently as July 12 — two weeks after a widely publicized FEC complaint issued on June 29 by non-partisan watchdogs Democracy 21 and the Campaign Legal Center.
These latest campaign finance violations were first reported by the investigative website "WhoWhatWhy" and have been confirmed by The Hill.
The Trump campaign did not respond to multiple requests for comment.
Terri Butler, a progressive Parliament member in Australia, told The Hill in a telephone interview Friday night that she was surprised to continue receiving fundraising solicitations from the Trump campaign at her official government email address.
She shared several of these emails, including one dated July 12 asking her to make a "generous contribution" to the Trump campaign.
Butler says she has no idea how her government email ended up on the Trump fundraising list.
"I haven't signed up to any Trump lists," she said.
Federal law on foreign money in campaigns is black and white, campaign finance lawyers on both sides of the political divide say.
It's illegal for foreign individuals, corporations and governments to either give money directly to U.S. candidates or spend on advertising to influence U.S. elections.
And it's also illegal for candidates to solicit foreign money, regardless of whether the donations ever materialize.
There is now vast documentary evidence that the Trump campaign is continuing to do just that.
Bob Blackman, a member of the U.K. House of Commons, shared with The Hill a fundraising solicitation sent to his government email address from the Trump campaign on July 12.
"I did not sign up, these are sent unsolicited," Blackman told The Hill in an email.
Another member of the U.K. Parliament, Peter Bottomley, said he'd received three solicitations from the Trump campaign.
"Neither [Trump's] sons nor anyone else has answered my questions about how they acquired my email nor why they were asking for financial support that I suppose to be illegal for [Trump] to accept," Bottomley told The Hill in an email.
Fred Wertheimer, president of the campaign finance watchdog Democracy 21, says he's never in his four-decade career seen a campaign continue to brazenly solicit foreign cash after being publicly called out.
"This is kind of absurd. I don't know of anyone else in this situation who would just go on keeping on soliciting money from foreign interests," he said. "I think the fact circumstances here are unprecedented.
"If they are put on notice that their fundraising solicitations of potential foreign donors are illegal and they keep doing it, then you potentially have knowing and willful violations of the law which moves this from civil violations to criminal violations," Wertheimer continued.
Wertheimer said he's going to assess the latest facts and may launch a criminal complaint in addition to his standing FEC complaint.
"It's open and shut that federal candidates can't solicit contributions from foreign donors," he said.
"There's a kind of arrogance about this," Wertheimer added.
Larry Noble, the general counsel at the Campaign Legal Center, said the Trump campaign's foreign solicitations are "really outrageous."
"It is a serious violation of federal law to solicit political contributions from foreign nationals," he said.
"There is no reason this should be happening," he added. "While U.S. citizens do live abroad, they usually don't have foreign government email addresses or are members of parliament, so they can't try to explain this by saying they thought they were soliciting U.S. citizens abroad.
"If the Trump campaign has continued to solicit foreign nationals after the matter first came to light in June, this looks like either gross incompetence, gross negligence or willful conduct."
(h/t The Hill)
Media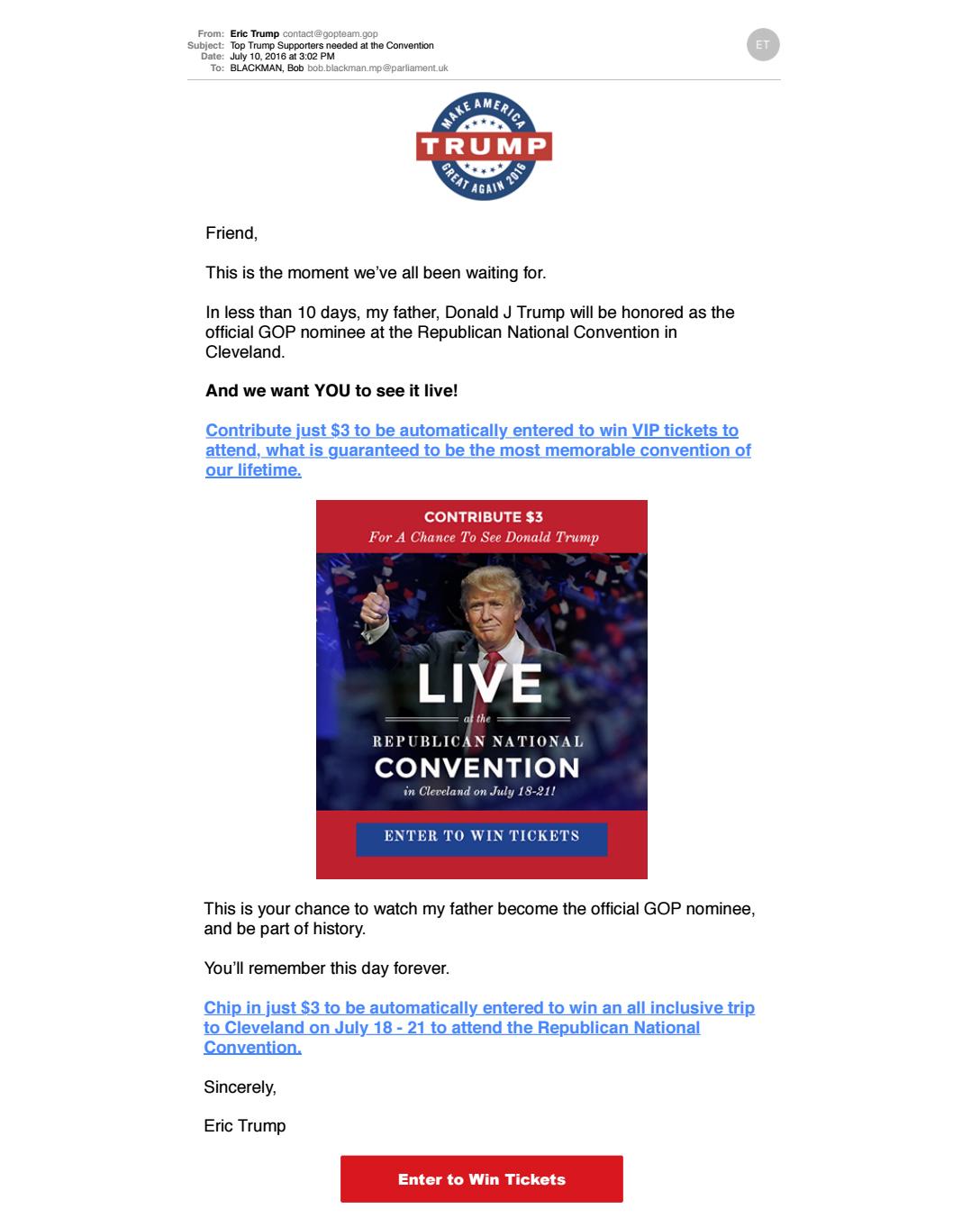 Links