Donald Trump Says He Has One of the 'Best Temperaments' of Any Presidential Candidate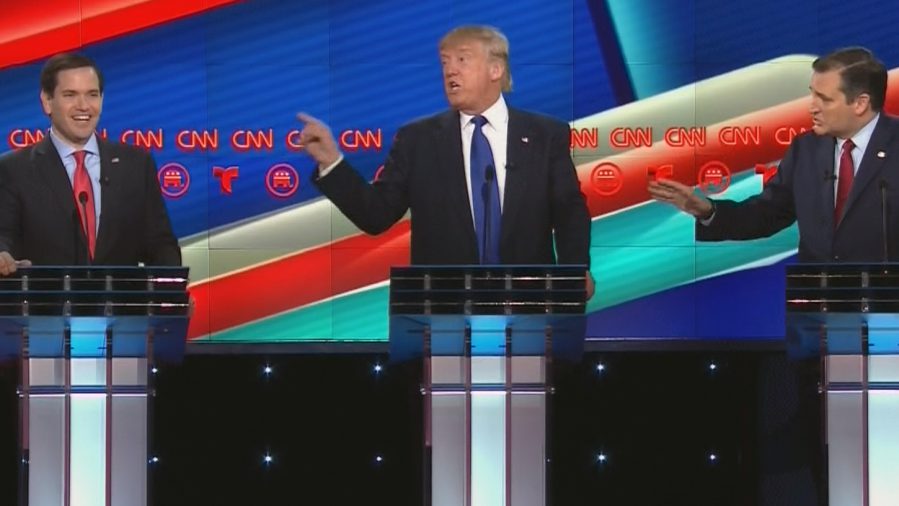 Republican nominee Donald Trump says that he's refusing to play "nice guy" anymore.
As chants of "Lock Her Up" rang out at his rally in Colorado Springs — a rallying cry against Hillary Clinton — Trump seemed to agree with them.
"You know what? I've been saying– I've been saying let's just beat her on November 8th, but you know what? No. no. You know what? I'm starting to agree with you," he said, a departure from the demurral he usually gives when the chants break out.
"I've been nice, but after watching that performance last night, such lies," he said. "I don't have to be so nice anymore. I'm taking the gloves off, right, yes? Take the gloves off. … Just remember this, Trump is going to be no more Mr. nice guy. Tell Hillary I am not gonna be nice anymore."
Trump, who has given his Democratic rival the moniker, "Crooked Hillary" and attacked her on multiple fronts, also told supporters Friday that he has "one of the best temperaments" of any previous presidential candidate.
"I think I have the best temperament, or certainly one of the best temperaments, of anybody that's ever run for the office of president. Ever," he the crowd today. "Because I have a winning temperament. I know how to win."
(h/t ABC News)
Reality
Trump's bragging about his temperament is almost laughable if he wasn't the Republican presidential nominee. As of this date we have over 400 controversial incidents involving Donald Trump, and none of them highlight someone who is even-tempered.
Some examples include:
When Donald Trump got into a childish shouting match with Marco Rubio and Ted Cruz during the December CNN debate?
When journalists uncovered the fact that Donald Trump never donated money to veterans charities after four months of claiming he did, and his response was a full-frontal meltdown calling them dishonest, not good people, sleazy, and among the worst human beings he has ever met.
Remember when Donald Trump mocked a disabled reporter?
The many times Donald Trump ejected protests, mocked them as they left, and one time demanded security to take their coats as they were thrown out into the cold.
When Trump instigated a months-long feud between him and Fox News' Megyn Kelly because she asked him a valid question about past sexist comments.
Media
Trump: "I think I have one of the best temperaments of anybody that's ever run for the office of president." https://t.co/yovjXtSFfw

— ABC News Politics (@ABCPolitics) July 29, 2016