Trump Doubles Down on Criticism of Khan Family as Blowback Continues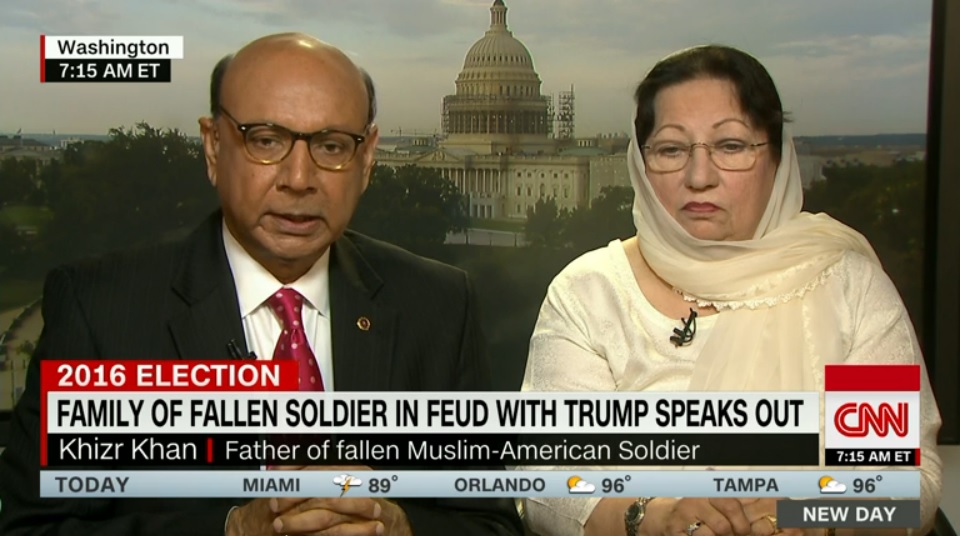 Republican nominee Donald Trump, facing backlash over his controversial remarks about the family of slain Army Capt. Humayun Kahn, continued to aggressively push back against critics.
During an interview on CNN's "New Day," where Khizr Khan and Ghazala Khan, the parents of Humayun Kkhan, shared memories of their son and discussed Trump's ignorance of the Constitution, Trump himself was apparently watching because he sent out this tweet:
Mr. Khan, who does not know me, viciously attacked me from the stage of the DNC and is now all over T.V. doing the same – Nice!

— Donald J. Trump (@realDonaldTrump) August 1, 2016
This came to the attention of CNN host Dan Berman who asked for a response. Khizr Khan extended to Donald Trump and his Republican supporters a plea for unity and empathy. He stressed the need to work with Muslim communities to combat radicalization, while again slamming Trump for his divisive rhetoric.
"Communities coming together is the solution. We are as concerned as Donald Trump is about the safety of this country. We are a testament to the goodness of this country," he said. "We need a leader that will unite us, not disrespect, not by derogatory remarks. I feel bad about the discourse that this campaign, this election campaign has taken."
"That's all I wish to convey to him. That a good leader has one trait — earlier I said — empathy."
Trump then tweeted his perceived lack of respect for the family of a fallen U.S. soldier served as a distraction from issues that were more pertinent to the presidential campaign.
"This story is not about Mr. Khan, who is all over the place doing interviews, but rather RADICAL ISLAMIC TERRORISM and the U.S. Get smart!" Trump tweeted in reference to the appearance.
This story is not about Mr. Khan, who is all over the place doing interviews, but rather RADICAL ISLAMIC TERRORISM and the U.S. Get smart!

— Donald J. Trump (@realDonaldTrump) August 1, 2016
Moreover, the families of 11 fallen service members have demanded an apology for "repugnant" and "personally offensive" remarks made by Trump, in a letter published by VoteVets Action Fund, the progressive advocacy wing of the political action committee for VoteVets.org.
Senate Majority Leader Mitch McConnell and Speaker of the House Paul Ryan praised the sacrifices made by the Khan family, in statements made over the weekend. Without naming Trump, they implied that his criticism of the Khan family and his proposal to temporarily bar Muslims from entering the U.S. ran contrary to American values.
"All Americans should value the patriotic service of the patriots who volunteer to selflessly defend us in the armed services. And as I have long made clear, I agree with the Khans and families across the country that a travel ban on all members of a religion is simply contrary to American values," McConnell wrote.
In a similar statement, Ryan said, "America's greatness is built on the principles of liberty and preserved by the men and women who wear the uniform to defend it. As I have said on numerous occasions, a religious test for entering our country is not reflective of these fundamental values. I reject it."
John McCain joined the chorus of Republicans condemning Donald Trump's attacks saying in statement, "Arizona is watching. It is time for Donald Trump to set the example for our country and the future of the Republican Party. While our party has bestowed upon him the nomination, it is not accompanied by unfettered license to defame those who are the best among us."
Ghazala Khan told CNN, "I'm so happy to be saying that I'm a Muslim woman. I'm very glad to be in this country."
"Someone has to pay a price for this freedom that we have," she added about her son's service.
Also, in an opinion article published in The Washington Post, Ms. Khan rebuked Mr. Trump for suggesting earlier in the weekend that she had not been permitted to speak at the Democratic convention. Ms. Khan said she did not speak because she did not believe she could remain composed while talking about her son.
(h/t ABC News)
Reality
The Khan family's criticisms are not about terrorism, but Trump's lack of understanding of the fundamentals of the United States Constitution and his personal attack on Ms. Khan, asserting she was not "allowed" to speak at their DNC speech.
By ignoring Khan family's statements and instead painting his response as a broader issue of "radical Islamic terrorism," Donald Trump is attempting to either cowardly deflect a very valid criticism or he is dishonestly trying to link the Khans to terrorists.
Media