Trump Avoids Speaking to Black Voters Because "He's Not Safe in Their Communities"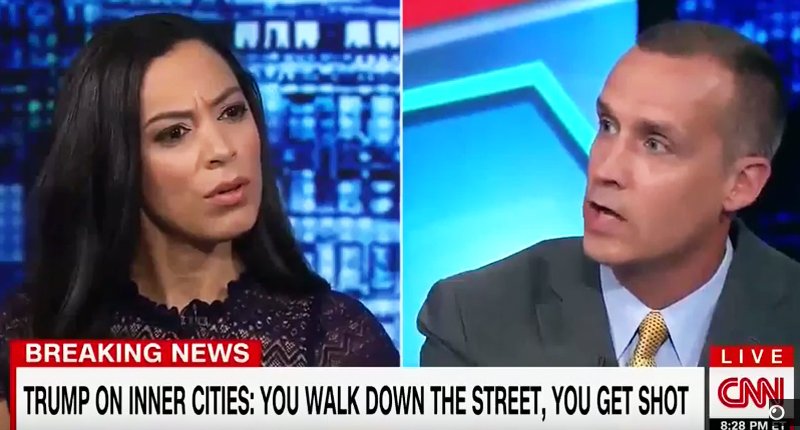 In what has become a seemingly endless series of CNN panels arguing over GOP presidential nominee Donald Trump's awkward play for black votes, former campaign manager Corey Lewandowski tried out a new — and possibly more insulting spin — on Trump's avoidance of black voters.
He wouldn't be safe addressing them in their own communities.
Lewandowski was part of a panel Monday night hosted by Anderson Cooper when he was asked why Trump doesn't appeal to black voter by actually meeting with them instead of talking about them in front of predominately white audiences.
"You know what's amazing to me is that no one remembers Donald Trump went to go have a rally in Chicago at the university. And remember what happened?" Lewandowski  began. "It was so chaotic and it was so out-of-control that the Secret Service and the Chicago Police Department told him you cannot get in and out of the facility safely. And that rally was cancelled."
Several panelists jumped in with the same question: "What does that have to do with communicating with the black community?"
Look!" Lewandowski shot back. "That is a black community. He went to the heart of Chicago to give a speech to the University of Chicago in a campus that is predominately African-American to make that argument. And you know what happened? The campus was overrun and it was not a safe environment."
Panelist Angela Rye replied, "Would you acknowledge that not all black communities all over the country are still not monolithic. So if he tried the same thing in Cleveland–"
Lewandowski immediately cut her off, saying "He tried to go to Chicago and wasn't allowed to make the speech–" as Rye shot back, "What about Dallas? What about Los Angeles?"
Lewandowski then complained that they were complaining about the venue and not the content of Trump's speech, when Rye cut in again.
"I just tried to tell you it's not monolithic," she stated.
"So whose fault is that that that particular event in Chicago was completely destroyed?" he asked.
"It's not all black people!" Rye hit back, only to have Lewandowski reply, "I didn't say it was."
Conservative CNN commentator Tara Setmayer then joined with Rye, going after the Trump advocate by pointing out that the Chicago audience was "predominately white" just like the others Trump has appeared before.
Lewandowski stated that the event was open to the public so there must have been "some African-Americans" inside which caused Setmayer to throw up her hands.
(h/t Raw Story)
Media
https://www.youtube.com/watch?v=2h-YoF-g9L4&feature=youtu.be