Vice Reporter Arrested Outside Trump Event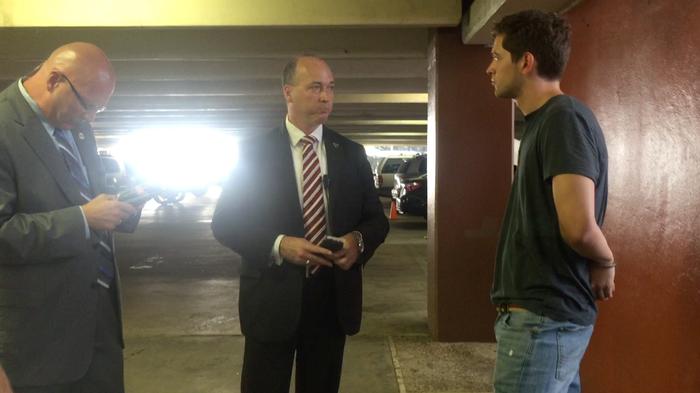 Vice News reports that one of its journalists, Alex Thompson, was arrested outside a Donald Trump campaign event in Houston on Saturday after inquiring about a media credential.
Thompson had previously applied for a credential to the event — a luncheon for families with relatives killed by undocumented immigrants — and was told by the Trump campaign that his application was pending, according to Vice. Thompson, hoping to cover the luncheon at the Omni Houston Hotel at Westside, showed up to inquire about the campaign's decision.
"A man who identified himself as a hotel manager then asked Thompson to leave and warned that he would be arrested if he did not," Vice reported. "Roughly two minutes later, without further warning and while Thompson was waiting for a member of Trump's staff to clarify his access to the event, he was arrested by Houston police, handcuffed and escorted outside. Thompson spoke with his editors while handcuffed and said that he was never given any opportunity to explain himself to police."
Maureen Dowd's fmr assistant, now @vicenews, is arrested @ Trump event a few hrs after Trump blasts Dowd on Twitter. https://t.co/QDZG2ut3Qo

— Binyamin Appelbaum (@BCAppelbaum) September 17, 2016
The Houston Police Department said Saturday that Thompson had been asked to leave the hotel twice. The first time, he had left; the second time, they said, "he refused to do so and told hotel employees they would have to have him arrested because he was not leaving." Hotel management then asked police to arrest him on trespassing charges, according to HPD.
Thompson's journalism career didn't start at Vice — he used to be an editorial assistant to New York Times columnist Maureen Dowd (who has written critically about Trump and released a book this week called "The Year of Voting Dangerously" — an unflattering take on both major-party presidential nominees.)
The Trump campaign late Saturday released a statement denying that it had anything to do with the arrest:
"The campaign was not involved in this incident or aware of the details surrounding it. The event organizers were responsible for today's media presence and requested the campaign limit attendance to the traveling pool. The campaign had no staff presence at check-in for guests or media and therefore has no further knowledge of what occurred."
Trump has treated the press with disdain throughout the election season, but the past few days have been particularly fractious. On Thursday, a plane chartered by the Trump campaign that was carrying reporters was delayed by about 30 minutes en route to a rally in Laconia, N.H. Trump refused to wait for the journalists to arrive and bragged to the crowd about leaving them behind.
"I have really good news: I just heard that the press is stuck on their airplane," the GOP standard-bearer told his audience. "They can't get here. I love it. So they're trying to get here now. They're going to be about 30 minutes late. They called us and said, 'Could you wait?' I said absolutely not. Let's get going. Right?"
On Friday, Trump hoodwinked cable news channels into airing a campaign event live by promising a "major statement" about his longtime suggestion that President Obama might not have been born in the United States. Instead, Trump spent most of the time advertising his new hotel in Washington and calling on military dignitaries who endorse him.
"President Obama was born in the United States," he finally said. "Period."
Journalists fumed about getting played.
Now comes Thompson's arrest — and seven more weeks of campaign-media relations that don't appear to be improving anytime soon
(h/t The Washington Post)
Reality
Charges were eventually dropped.
Media
https://www.youtube.com/watch?v=nP5Pu31-cxM&feature=youtu.be