Donald Trump Brags That He "Called It" Without Evidence on Chelsea Explosion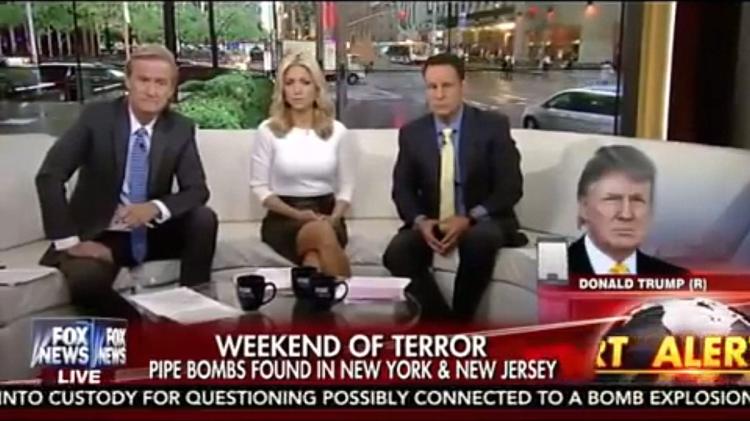 Donald Trump appeared to pat himself on the back Monday morning for "calling" the explosions in New York and New Jersey over the weekend, telling Fox News he "should be a newscaster" because he "called it before the news."
Trump is referring to his rally in Colorado Springs, Colorado, Saturday night, in which he told a crowd that a "bomb went off" in New York before any media reports or public statements from officials had confirmed the cause of the explosions that injured 29 people.
"Just before I got off the plane, a bomb went off in New York, and nobody knows exactly what's going on, but boy, we are living in a time," he said Saturday.
Trump claimed "everybody" has said that he was right but "called it too soon." "OK, give me a break," he continued. "But Hillary Clinton used the word 'bombs' shortly thereafter and nobody said anything about it. And somebody said some of them edit that word out. They took it out. Hey, folks, it's a rigged system, and I've been saying it for a long time. And the news is as dishonest as anybody there is."
In his Colorado speech, Trump gave no other information about the attacks, instead immediately moving on to tell the crowd about how well he was doing in the polls.
This is not the first time Trump has patted himself on the back after an attack or incident that led to deaths.
After the mass shooting in Orlando earlier this year, Trump says he "called it" and touted his proposal to ban Muslim immigrants to the United States — despite the fact that the Orlando shooter was an American citizen.
When NBA star Dwyane Wade's cousin was shot and killed on the streets of Chicago, Trump tweeted that her death was "just what [he had] been saying" about how African-Americans couldn't walk down the street without being shot — his ploy to attract black voters to his campaign.
(h/t Mic)
Reality
First off, Trump and his campaign is lying. While Hillary Clinton did mention the attacks as "bombings," it was a full 2 hours after NYPD determined an IED was the source of the explosion. She also quantified her remarks by saying, "Well, I think it's important to know the facts about any incident like this. That's why it's critical to support the first responders, the investigators who are looking into it, trying to determine what did happen," which is a world apart from Trump's fear-based statement minutes after the incident saying, "It was a bomb! There will be more! Elect me and I'll keep you safe!"
Here is the timeline of events:
In times of uncertainty we look toward our leaders for guidance. When a leader rushes to judgement without all of the available evidence, especially when it comes to our security, the consequences are fears get stoked.
Media
https://www.youtube.com/watch?v=8XF1GUIFysw