Trump Surrogate Newt Gingrich Has Heated Exchange with Megyn Kelly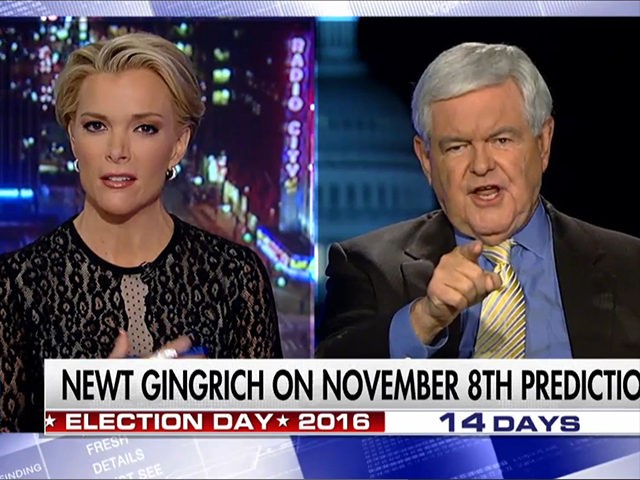 A visibly angry Newt Gingrich battled Megyn Kelly in a Tuesday night TV segment that left Donald Trump supporters accusing Kelly of bias.
Gingrich, speaking as a surrogate for Trump, said Kelly is "fascinated with sex" after Kelly brought up allegations of sexual assault and unwanted touching by the GOP nominee.
"You are fascinated with sex and you don't care about public policy," Gingrich said.
She responded: "You know what, Mr. Speaker, I'm not fascinated by sex, but I am fascinated by the protection of women, and understanding what we're getting in the Oval Office."
Gingrich advanced a common conservative complaint — that allegations against Trump are getting an undue amount of media attention.
The conversation ended with Kelly asserting that Gingrich — a paid Fox News contributor — had "anger issues."
Gingrich addressed the segment on Twitter Wednesday morning, writing, "For the record, @megynkelly was wrong, i don't have anger management issues. I do have media bias issues!"
Tuesday's already tough segment turned fiery when Kelly raised the possibility — stated as a question, not a fact — that Trump could be a "sexual predator."
Gingrich, who when he was Speaker of the House led the impeachment of Bill Clinton on charges related to his relationship with Monica Lewinsky, objected to this. He tried to turn the conversation around by invoking allegations against Bill Clinton: "I just want to hear you use the words. I want to hear the words 'Bill Clinton sexual predator.' I dare you. Say 'Bill Clinton, sexual predator.'"
Kelly did not take his bait.
Gingrich also seemed to dismiss Fox's own electoral map, which shows Clinton well ahead of the 270 electoral votes she needs to win the presidency.
Kelly cited several such maps, including Fox's, and said "these are nonpartisan outlets that are just trying to call the electoral scoreboard."
"They're not nonpartisan outlets," Gingrich responded. "Every outlet you described is part of the establishment."
"Fox News? Really? Are we? I don't think so," she said.
"Oh c'mon," Gingrich said.
The segment ended up proving what Gingrich said at the very beginning: That Americans are living in "two parallel universes" right now.
(h/t CNN)
Reality
Trump and his surrogates are having a very hard time distinguishing between Bill Clinton's consensual sex and Donald Trump's sexual assault. As conservative commentator Ana Navarro explained, "Sexual assault and sex are two different things. One is unwanted, one is wanted."
Newt Gingrich made an interesting point that Megyn Kelly was fascinated with sex because was in a unique position to be somewhat of an expert being on his third marriage, cheated on his first two wives, asked them for an open marriage, and was having an affair while he was impeaching Bill Clinton.
But I'm sorry we were talking about Megyn Kelly and her supposed fascination with sex.
Media
https://www.youtube.com/watch?v=H-C0CcI-fY4