Trump Calls African-American Neighborhoods 'Ghettos' With 'So Many Horrible Problems'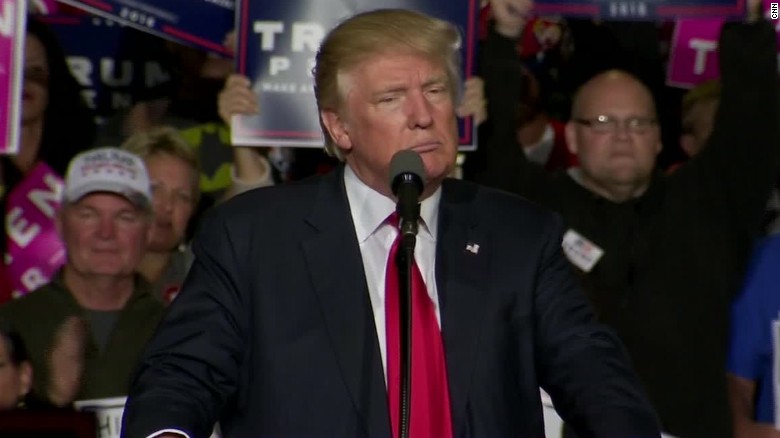 First they were "inner cities" – now they're just "ghettos."
Donald Trump once again appeared to equate an entire ethnicity with a socio-economic segment as he, during a campaign rally in Ohio on Thursday, pledged to "work with the African-American community" to solve the problem of the "ghettos."
"And we're going to work on our ghettos, are in so the, you take a look at what's going on where you have pockets of, areas of land where you have the inner cities and you have so many things, so many problems," Trump rambled to a mostly white audience in Toledo, appearing to catch himself using the politically tabooed word. "So many horrible, horrible problems. The violence. The death. The lack of education. No jobs."
"Ghetto" is generally not used by public officials as it's considered an outdated, insensitive word for struggling urban areas.
Trump has previously been rebuked for associating African-Americans – who comprise roughly 13% of the total population – with the words "inner cities."
The Republican nominee has recently launched outreach efforts directed at black voters, but appears to have failed severely as polls have shown that less than 1% of African-American voters are going to punch in his name on the ballot.
At another point during the Toledo rally, Trump seemed to question the necessity for democracy.
"What a difference it is. I'm just thinking to myself right now – we should just cancel the election and just give it to Trump, right?" he said in front of the roughly 2,800 rally attendants, comparing his presidential bid with Hillary Clinton's.
Trump, meanwhile, is doubling down on past remarks about the election being "rigged" – an insinuation that political experts claim could have very real and very violent consequences.
(h/t New York Daily News)
Media