Trump on Business Conflicts: You Knew Who You Were Voting For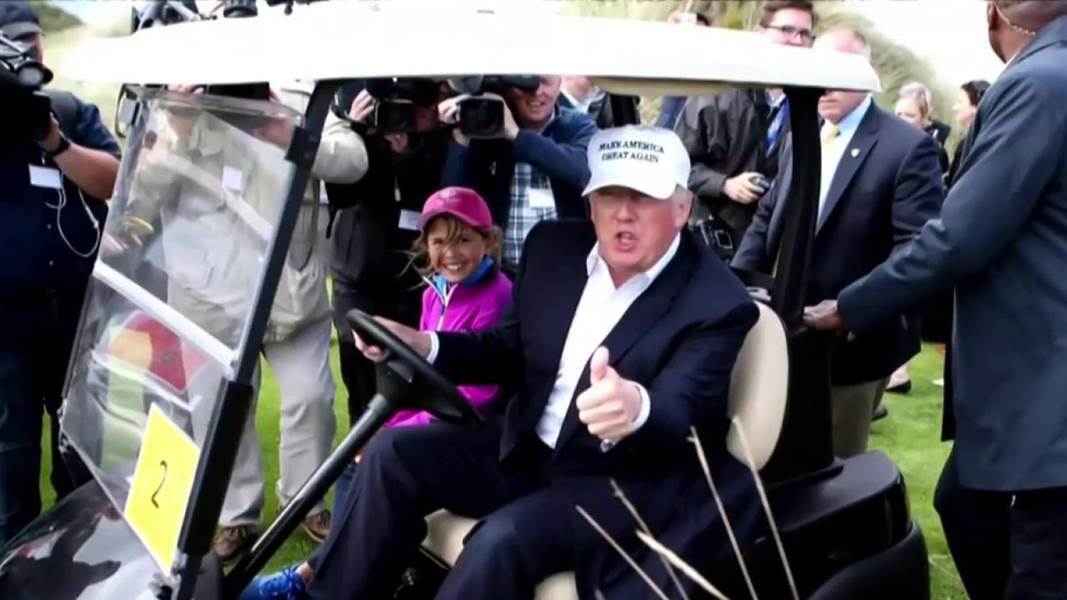 As Donald Trump assured us during the campaign, someday he'll turn his business into a "blind trust" operated by his children (right after they change the definition of what a "blind trust" is). For now, it appears Trump is still looking out for his own business interests by combining them with the interests of the president-elect.
The latest example comes from the New York Times, which reported on Monday evening that during a meeting with Nigel Farage days after the election, Trump encouraged the British politician and his pro-Brexit entourage to oppose offshore wind farms that threaten to ruin the view at one of his Scottish golf courses. Last year, Trump lost a long legal battle to block the construction of a wind farm near his resort.
"He did not say he hated wind farms as a concept; he just did not like them spoiling the views," said Andy Wigmore, a media consultant who attended the meeting. Wigmore said he and his associates were already opposed to wind farms, but Trump "did suggest that we should campaign on it" and "spurred us in and we will be going for it."
Trump spokesperson Hope Hicks initially denied the report, then stopped responding when informed that Wigmore described the conversation with Trump. But Trump took matters into his own hands, blasting the "crooked media" for focusing on his conflicts of interest. He tweeted, a short time after the Times story was published:
Prior to the election it was well known that I have interests in properties all over the world.Only the crooked media makes this a big deal!

— Donald J. Trump (@realDonaldTrump) November 22, 2016
But the next day Mr. Trump was acknowledging a recent meeting with the British politician Nigel Farage, in which, The Times reported, he "encouraged Mr. Farage and his entourage to oppose the kind of offshore wind farms that Mr. Trump believes will mar the pristine view from one of his two Scottish golf courses."
"I might have brought it up," Trump says of Farage meeting and wind farms.

— Maggie Haberman (@maggieNYT) November 22, 2016
Pressed about his business interests, Mr. Trump also said, "In theory I could run my business perfectly and then run the country perfectly."
(h/t New York Magazine)