Trump Barred Reporters From Examining Stacks of Folders at Press Conference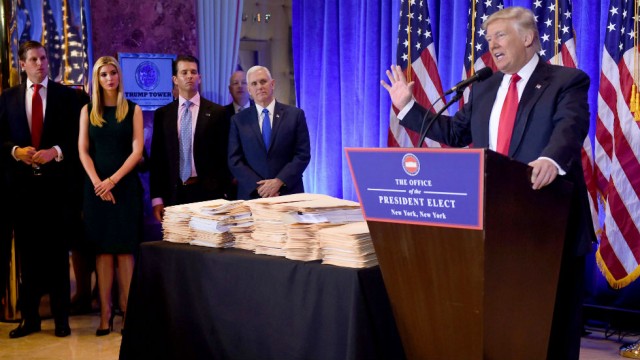 President-elect Donald Trump on Wednesday wouldn't allow reporters to see piles of documents displayed at his press conference, which he and lawyers said detailed his plans to disentangle himself from his business.
"These papers are just some of the many documents I've signed turning over complete and total control to my sons," Trump said during his press conference, standing next to a table stacked with manila folders.
"They are not going to discuss [the business] with me," Trump said of his sons. "Again, I don't have to do this. They're not going to discuss it with me."
Update: The Trump team did not allow the press to see the contents of the folders. Photo by Noah Gray/CNN pic.twitter.com/zKc9fv3Sba

— CNN Politics (@CNNPolitics) January 11, 2017
CNN reported that the press was not allowed to take a closer look at the documents. The Associated Press similarly reported that Trump staffers blocked journalists from looking at the folders.
Trump announced Wednesday that he is handing control of his business empire to his two adult sons, Donald Trump Jr. and Eric Trump, and placing his assets into a trust. The press conference was the first Trump has held since the election and included long-awaited details of how the president-elect plans to avoid conflicts of interest when sworn into office.
The head of the Office of Government Ethics (OGE) slammed Trump's plans to separate himself from his business as "wholly inadequate" in resolving conflicts of interest.
"The plan the president-elect has announced doesn't meet the standards that the best of his nominees are meeting and that every president in the last four decades have met," OGE Director Walter Shaub said during a speech at the Brookings Institution in Washington.
Shaub added that the plan isn't a true blind trust.
(h/t The Hill)
Reality
The pages are blank. pic.twitter.com/agLqnBTjrg

— Mikey Neumann (@mikeyface) January 12, 2017