Trump Praised Philippines President Duterte For Drug War That Has Killed 9,000 People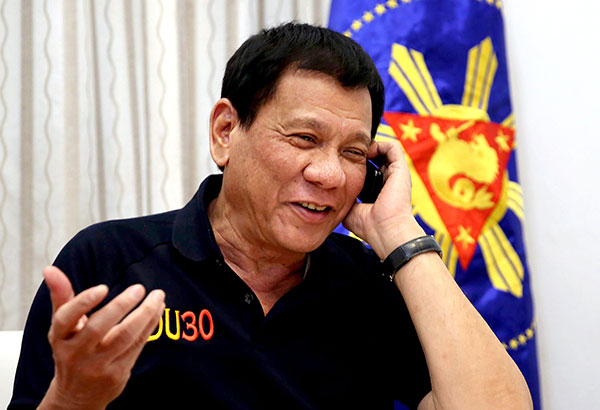 President Donald Trump opened a brief April phone call with Philippines President Rodrigo Duterte by commending the strongman's bloody war on drugs, according to a transcript obtained by The Washington Post and the The Intercept.
"I just wanted to congratulate you because I am hearing of the unbelievable job on the drug problem," said Trump. "Many countries have the problem, we have a problem, but what a great job you are doing and I just wanted to call and tell you that."
Trump then criticized former President Barack Obama, who had spoken out against Duterte's violent anti-drug offensive that has killed an estimated 9,000 people, including many small-time users and dealers.
"I understand that and fully understand that and I think we had a previous president who did not understand that, but I understand that and we have spoken about this before," Trump said, according to the transcript.
A senior Trump administration official told the Post the transcript is accurate, but would not speak on the record about a "leaked" document.
The transcript, provided to the outlets by a source in the Philippines and authenticated by Rappler, a Philippines news outlet that partnered with the Intercept, is further confirmation of Trump's uncharacteristic friendliness toward autocratic world leaders. It also is likely to raise fears that harsh rhetoric from Trump and Attorney General Jeff Sessions on what they call the scourge of drug abuse and addiction may give way to more militant action in the future.
In his call with Trump, Duterte similarly called drugs "the scourge of my nation," according to the transcript.
White House officials initially characterized the April call as "a very friendly conversation," during which Trump had invited Duterte to visit Washington. That development reportedly surprised White House staffers and drew widespread condemnation from human rights groups, which have accused Duterte of condoning a lawless drug war that has terrorized the nation with a campaign of extrajudicial killings carried out by vigilantes and police officers. Duterte has seemingly embraced this barbaric depiction, comparing himself with Adolf Hitler on a mission to kill millions of drug addicts.
"By essentially endorsing Duterte's murderous war on drugs, Trump is now morally complicit in future killings," John Sifton, Asia advocacy director of Human Rights Watch, told The New York Times in April. "Although the traits of his personality likely make it impossible, Trump should be ashamed of himself."
Michael Collins, deputy director of national affairs at the Drug Policy Alliance, a nonprofit that supports the progressive reform of drug laws, called Trump's remarks "a new low."
"It fills me with disgust to see the U.S. president congratulate someone who has overseen the massacre of thousands of his own people in the name of the war on drugs," Collins said in a statement to HuffPost. "The U.S. government should be urging restraint and respect for human rights; instead Trump gives Duterte's deadly drug war his seal of approval."
Trump's support for Duterte's tactics also mark a significant departure from the policies of Obama's administration, which had shown a willingness to confront the Philippines president on the issue of drug enforcement. Ahead of the Association of Southeast Asian Nations summit in September, Obama said he'd bring up the drug war during a planned meeting with Duterte, because he believed in the need to "have due process and to engage in that fight against drugs in a way that's consistent with basic international norms."
Duterte responded by calling Obama a Taglog phrase for "son of a bitch," and the meeting was canceled.
Trump and Duterte, during their call, also discussed escalating tensions on the Korean peninsula, and expressed concerns about North Korean leader Kim Jung Un, whom Trump called a "madman with nuclear weapons." Days later, Trump said he'd be "honored" to meet with the North Korean dictator.
Trump and Duterte agreed that China would play a pivotal role in keeping North Korea in check, and warding off the possibility of military action.
"We have a lot of firepower over there. We have two submarines – the best in the world – we have two nuclear submarines – not that we want to use them at all," said Trump, according to the transcript. "I've never seen anything like they are but we don't have to use this but he could be crazy so we will see what happens."