Betsy DeVos Would Not Agree to Bar Discrimination by Private Schools That Get Federal Money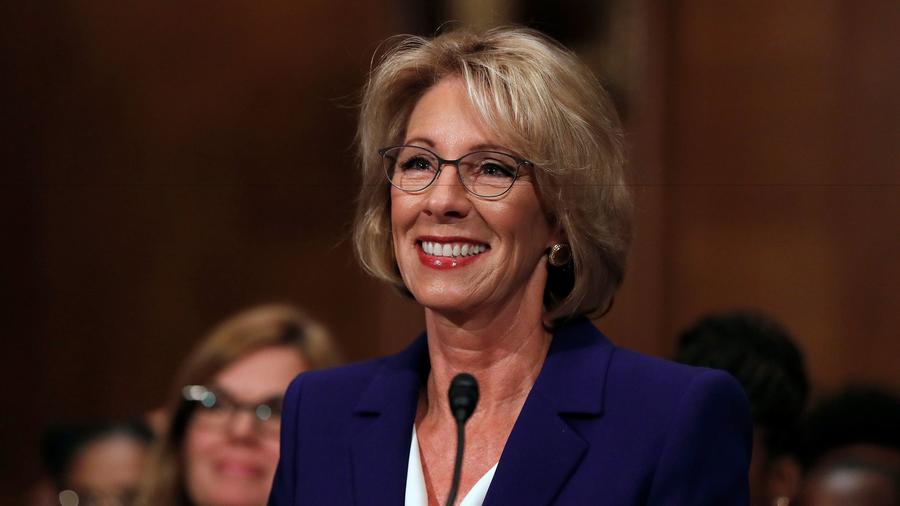 President Trump's budget proposal includes deep cuts to education but funds a new push for school choice.
When pressed by representatives at a House appropriations subcommittee hearing on the budget, Education Secretary Betsy DeVos declined to say if, when or how the federal government would step in to make sure that private schools receiving public dollars would not discriminate against students.
She repeatedly said that decisions would be left to school districts and parents.
Rep. Mark Pocan (D-Wis.) stressed that Milwaukee's school voucher program has resulted in years of failure. When he pressed DeVos on whether the federal government would hold recipients of public money accountable, DeVos punted.
"Wisconsin and all of the states in the country are putting their ESSA plans together," said DeVos, referring to the Every Student Succeeds Act, a school accountability law. "They are going to decide what kind of flexibility … they're allowed."
"Will you have accountability standards?" Pocan asked.
"There are accountability standards," DeVos said. "That is part of the ESSA legislation."
That's not true. ESSA's regulations state that the law's accountability rules do not apply to private schools.
@Joy_Resmovits No. As stated by ED in its NPRM for ESSA regs: ESSA's accountability reqs do NOT apply to private schools, only public schools. pic.twitter.com/V5f4apCbER

— Anne Hyslop (@afhyslop) May 24, 2017
Rep. Katherine Clark (D-Mass.) asked DeVos about a Christian school in Indiana that gets state dollars through a voucher program but explicitly states that gay students may be denied admission.  "If Indiana applies for funding, will you stand up and say that this school is open to all students?" Clark asked.
DeVos said states make the rules.
"That's a no," Clark said. Then she asked what if a school doesn't accept black students.
"Our [civil rights] and Title IX protections are broadly protective, but when our parents make choices," DeVos started.
"This isn't about parents making choices," Clark interrupted. "This is about the use of federal dollars."
After a few more rounds like this, DeVos said that her "bottom line" is that "we believe that parents are best equipped to make decisions for their schooling."
Clark said she was shocked by this response.
DeVos' staff later came to her defense, saying that the line of questioning in the hearing concerned a "theoretical voucher program" and indicated a "misunderstanding" about the federal government's role in education.
"When States design programs, and when schools implement them, it is incumbent on them to adhere to Federal law," DeVos' press secretary Liz Hill said in an email. "The Department of Education can and will intervene when Federal law is broken."
Media
Betsy DeVos wouldn't say whether she'd stop a school from discriminating based on race or sexual orientation pic.twitter.com/5Axg2qYlvk

— NowThis (@nowthisnews) May 25, 2017