Trump team halts rules meant to protect students from predatory for-profit colleges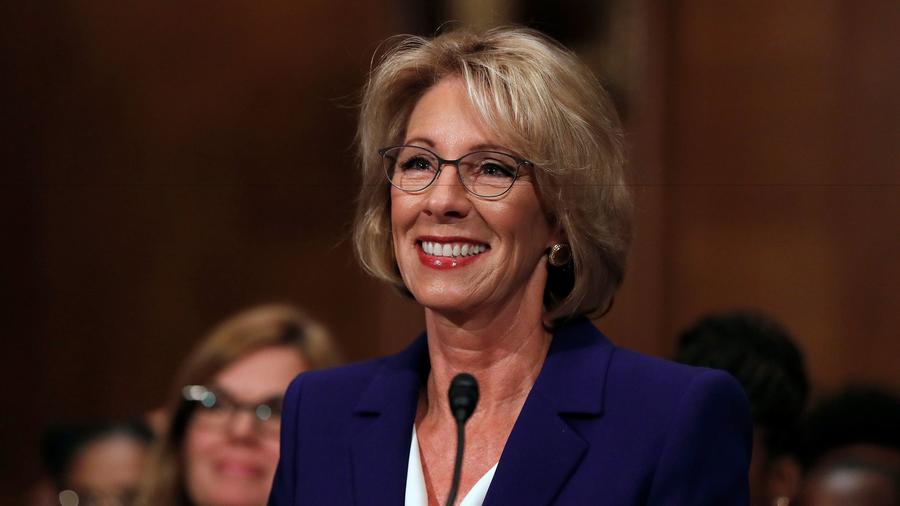 The Trump administration is suspending two key rules from the Obama administration that were intended to protect students from predatory for-profit colleges, saying it will soon start the process to write its own regulations.
The move made Wednesday by Education Secretary Betsy DeVos was a victory for Republican lawmakers and for-profit colleges that had lobbied against the rules. Critics denounced it, accusing the administration of essentially selling out students to help for-profit colleges stay in business.
The Education Department released a statement saying that it was going to create new committees to rewrite rules covering borrower defense to repaying, or BDR, and gainful employment. BDR relieves students of all federal loans if a school used illegal or deceptive tactics to persuade students to borrow money to attend. Gainful employment requires that action be taken — including possible expulsion from the federal student aid program — against vocational programs whose graduates leave with heavy student loan debt. Ninety-eight percent of the programs that officials found to have failed to meet those standards are offered by for-profit colleges.
Parts of the gainful employment rule are already in effect. BDR was set to become effective July 1 but will now be postponed. The Education Department said that while new rules are drawn up, it will process applications under the current borrower defense rules.
A program is considered to lead to "gainful employment" if the annual loan payment of a typical graduate does not exceed 20% of their discretionary income or 8% of their total earnings. Exceeding those debt-to-earnings rates means possible expulsion from the federal student aid program.
DeVos criticized the regulations that were approved by the Obama administration, saying that they are unfair to students and schools and that they leave taxpayers with a big bill.
"Fraud, especially fraud committed by a school, is simply unacceptable," she said in her department's statement. "Unfortunately, last year's rule-making effort missed an opportunity to get it right. The result is a muddled process that's unfair to students and schools, and puts taxpayers on the hook for significant costs. It's time to take a step back and make sure these rules achieve their purpose: helping harmed students. It's time for a regulatory reset. It is the department's aim, and this administration's commitment, to protect students from predatory practices while also providing clear, fair and balanced rules for colleges and universities to follow."
The American Federation of Teachers pushed back against the decision.
"The Trump administration's actions today show that the White House stands with predatory for-profit schools, not the students they rip off," it said in a statement. "About the only thing worse than ripping off students with worthless degrees from for-profit colleges is denying them help to relieve their substantial debt, and allowing the schools to continue to prey on students. Given that for-profit colleges were big donors to Trump and other Republican candidates, one wonders whether this is simply a new pay-to-play scheme at the expense of our students, including our veterans, who are much helped by the rules Education Secretary Betsy DeVos wants to eliminate."
Not everyone in higher education opposed the administration's move, however. The Chronicle of Higher Education reported that the United Negro College Fund and the National Assn. for Equal Opportunity in Higher Education — which represent historically black colleges and universities, or HBCUs — sent a letter to DeVos this week urging her to put a hold on the implementation of the regulations and reconsider them.
"We remain concerned about the sweeping scope of the regulation and vague standards for determining 'misrepresentation' that could unfairly leave HBCUs and PBIs liable for frivolous claims, unwarranted fines, and unfounded penalties," they said in the letter. "Such provisions could result in significant costs that would divert precious resources better spent on serving the needs of students."
The nonprofit consumer advocacy group Public Citizen and the Project on Predatory Student Lending smacked DeVos' move, saying in a statement that she had "put the profit margins of for-profit colleges ahead of the interests of students and their families" in "a craven attempt to avoid the agency's legal obligation" to enforce the rules. The statement cited a part of the Obama-era rules that included a ban on the use of forced arbitration clauses in many student enrollment contracts:
"These clauses require students to submit any dispute that might later arise between the students and the institution to binding arbitration, a private process with little right to appeal, instead of a court of law. The rules also provide new and long-needed protections for students asserting defenses against repayment of their federal loans based on fraud or other misconduct by the students' schools."