Trump: Many Immigrants are 'Animals' Who 'Slice and Dice Young, Beautiful Girls'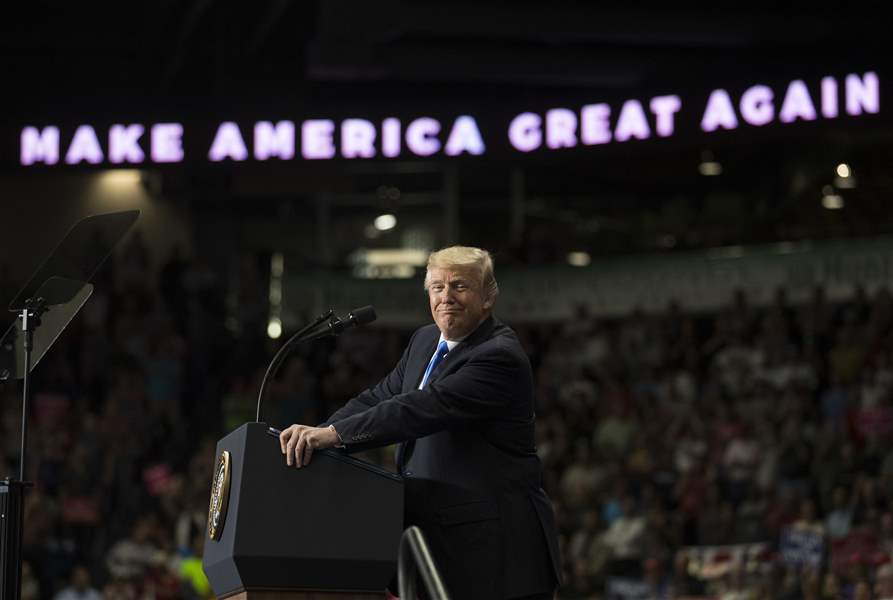 Donald Trump marked Tuesday with another campaign-style rally in Ohio, using his platform to grab praise from his supporters and return to the glory of his campaign. There were plenty of pro-Trump folks in attendance, with some anti-Trump protestors tossed into the mix, giving the entire event a nostalgic 2016 feel that's bolstered by Trump once again taking aim at illegal immigrants.
Trump hasn't resorted to this type of language in a while, but Tuesday night's rally touted ICE raids that were "doing it rough" and not "in a politically correct fashion," while referring to those being deported as violent gang members and "animals." While data has shown that immigrants are less likely to commit crimes according to The New York Times and ICE Raids aren't always targeting the worst of the worst, Trump's comments would have you believe that they're going block by block as they "liberate" cities from violent foreigners:
One by one, we are finding the illegal gang members, drug dealers, thieves, robbers, criminals, and killers. And we are sending them the hell back home where they came from. [applause]

And once they are gone, we will never let them back in, believe me. [applause]

The predators and criminal aliens who poison our communities with drugs and prey on innocent young people — these beautiful, beautiful, innocent young people — will find no safe haven anywhere in our country. [applause]

And you've seen the stories about some of these animals. They don't want to use guns, because it's too fast and it's not painful enough. So they'll take a young, beautiful girl, 16, 15, and others, and they slice them and dice them with a knife, because they want them to go through excruciating pain before they die. And these are the animals that we've been protecting for so long. Well, they're not being protected any longer, folks.
There's nobody to question this comments at the rally, sites like Shareblue point out that Trump's rant was less about actually dealing with violent criminals and more about "building up the anger and suspicion" with his supporters. He's campaigning six months into his presidency and shows no signs of stopping. He's even gone back to saying he's more presidential than any president before — setting aside an exception for Lincoln.
Being presidential clearly includes telling a crowd of Boy Scouts about your friend's sex yacht. This is Trump's America now.
[Uproxx]
Media
https://www.youtube.com/watch?v=ZiuiPDqvkh8