Trump to Australian PM: 'You Are Worse Than I Am'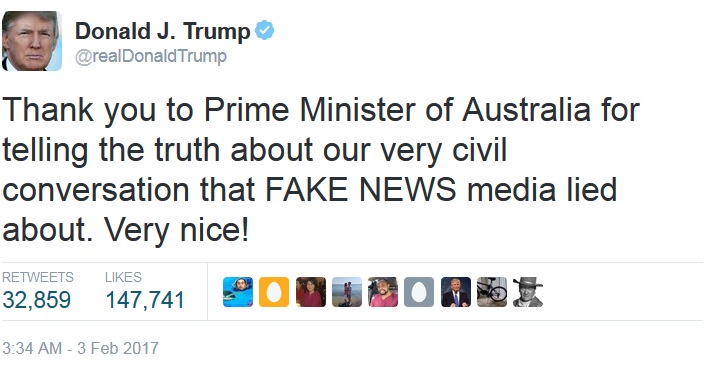 An explosive transcript has been released of the infamous phone exchange between Prime Minister Malcolm Turnbull and U.S. President Donald Trump from the beginning of 2017 when Trump took office.
The January 28 conversation between the two leaders had sent the Australian public and media into a frenzy over the hostility Trump reportedly showed towards Turnbull over the refugee "swap" deal made between the Australian government and Obama administration, where the U.S. would take refugees from Manus Island and Nauru in exchange for refugees from Central America.
Despite widespread reporting of the tense conversation, both Trump and Turnbull denied their first exchange since Trump's appointment had been anything but "good" and "great".
While Trump, in predictable fashion, accused media outlets that reported on the tense exchange as "fake news" — both on Twitter and again when Turnbull and Trump met for the first time in New York in May.
Thank you to Prime Minister of Australia for telling the truth about our very civil conversation that FAKE NEWS media lied about. Very nice!

— Donald J. Trump (@realDonaldTrump) February 3, 2017
But in documents obtained by the Washington Post from White House staff late on Thursday night (AEST), the exchange is revealed as heated, with the U.S. President blasting Turnbull with apparent little regard for the U.S. and Australia's long-standing relationship as allies.
You can read the full transcript as published by the Washington Post here.
"I think it is a horrible deal, a disgusting deal that I would have never made," Trump said. "As far as I am concerned, that is enough, Malcolm. I have had it."
"I hate taking these people," Trump said. "I guarantee you they are bad. That is why they are in prison right now. They are not going to be wonderful people who go on to work for the local milk people".
"I hate taking these people": Trump and Australian prime minister fought over plan for U.S. to accept refugees https://t.co/PiWwgaVix5 pic.twitter.com/WuGLJA8mMy

— Washington Post (@washingtonpost) August 3, 2017
Turnbull argued that the refugees were not "bad people" but economic refugees whom Australia could not allow to settle because it would encourage people smugglers.
"We said if you try to come to Australia by boat, even if we think you are the best person in the world, even if you are a Noble Prize winning genius, we will not let you in," Turnbull told Trump.
The Australian PM is also recorded persuading the President by offering to take in "anyone that you want" in exchange for the 1,250 refugees.
"We will take anyone that you want us to take. The only people that we do not take are people who come by boat," he says.
Trump did however appear to commend Turnbull on his government's offshore processing of refugees, telling the Prime Minister it "is a good idea, we should do that too".
That was followed by Trump telling Turnbull "you are worse than I am" in relation to refugees, which the Washington Post understood to be a compliment.
Trump told Turnbull the deal "would kill" him after so much of his campaign had relied heavily on closing borders and the infamous Muslim ban.
"I am the world's greatest person that does not want to let people into the country," he said.
"This deal will make me look terrible": Here are the full transcripts of Trump's calls with Mexico and Australia https://t.co/cAh6heaBj8

— Washington Post (@washingtonpost) August 3, 2017
The leaked transcripts also shed light for the first time on the number of refugee detainees the Turnbull government and Obama administration has agreed upon. Turnbull told Trump that the "number in the agreement is 1,250", before adding, "and it is entirely a matter of your vetting".
Trump further blew up over the deal he called "dumb" and "stupid", telling the Prime Minister it would show him to be "a dope".
As the phone call wound towards its conclusion, the President further raged against the deal, telling Turnbull: "I have been making these calls all day and this is the most unpleasant call all day. Putin was a pleasant call. This is ridiculous."