Trump Thanks Putin for Expelling U.S. Diplomats to Dismay of State Department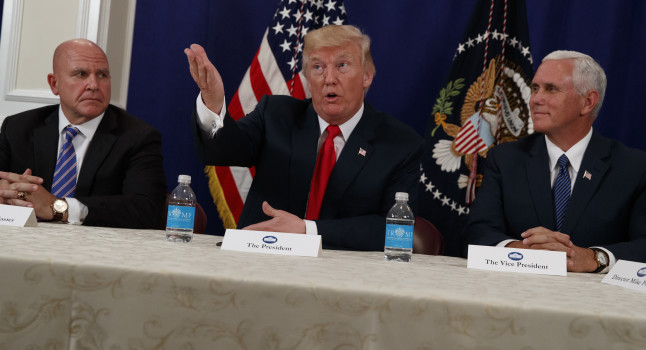 President Donald Trump on Thursday thanked Russian President Vladimir Putin for expelling American diplomats from Russia on the grounds that "we're going to save a lot of money," prompting dismay among some of the rank-and-file at the State Department.
"I want to thank him because we're trying to cut down our payroll, and as far as I'm concerned I'm very thankful that he let go of a large number of people because now we have a smaller payroll," Trump told reporters at his golf club in Bedminster, New Jersey, according to a pool report.
"There's no real reason for them to go back," he added. "I greatly appreciate the fact that we've been able to cut our payroll of the United States. We're going to save a lot of money."
Russia recently announced that it would expel hundreds of American diplomats from Russia in retaliation for new sanctions the U.S. put on the Kremlin. Those sanctions are in response to Russia's suspected attempts to meddle in last year's U.S. presidential election through a disinformation campaign and cyberattacks on Democratic Party officials.
Trump, whose campaign's relationship with Russia is the subject of an ongoing federal investigation, had pushed back against the sanctions bill, but signed it into law after it passed Congress with veto-proof majorities in both chambers.
The State Department has not yet released the details of how it will handle the drawdown. But many, if not most, of the positions cut will likely be those of locally hired Russian staffers, though the local staff who are let go will likely get severance payments. Cost savings are possible in the long run.
The U.S. diplomats forced to leave Moscow will in most cases be sent to other posts, sources said.
Trump's remarks did not go down well among the rank-and-file at the State Department, some of whom noted that the people who would be most affected are locally hired staff crucial to American diplomats' work overseas.
A senior U.S. diplomat serving overseas called Trump's remarks "outrageous" and said it could lead more State Department staffers to head for the exits.
"This is so incredibly demoralizing and disrespectful to people serving their country in harm's way," the diplomat said.
"I kid you not, I have heard from three different people in the last five minutes," one State Department official told POLITICO shortly after Trump's comments. "Everyone seems pretty amazed. This statement is naive and shortsighted. It sends a terrible signal to local employees everywhere."
"THANK Putin?" another bewildered State Department official responded. "I don't have words that are printable to describe my reaction."
The reaction to Trump's comments on social media was equally as withering, with many suggesting he simply didn't understand how the U.S. Foreign Service is structured and others shocked by his gesture to Putin.
Nicholas Burns, who served as undersecretary of state for political affairs during the second Bush administration, called Trump's statement "shameful."
"He justifies mistreatment of U.S. diplomats by Putin," Burns wrote on Twitter.
Ever since Trump won the election, the State Department has felt sidelined by the president and his aides. Trump largely ignored U.S. diplomats who were ready and willing to offer him briefings when he talked to foreign leaders during the transition period. Since taking office, Trump has proposed cutting the State Department's budget by a third, and his secretary of state, Rex Tillerson, is considered isolated and aloof from many of the diplomats he oversees.
[Politico]