Donald Trump Says Internet Must Be 'Cut Off' to Stop Further Terror Attacks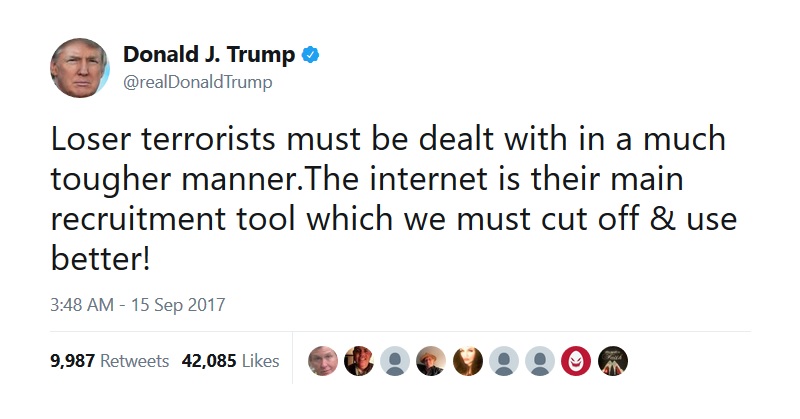 Donald Trump says that the internet must be "cut off" to stop further terror attacks.
Responding to the terror incident at Parsons Green Tube station, he said that the internet was a terrorist "recruiting tool".
"Loser terrorists must be dealt with in a much tougher manner," he wrote. "The internet is their main recruitment tool which we must cut off & use better!"
The tweet came after another message in which he appeared to suggest that the attacker had been known to police, despite Scotland Yard not having said so. "These are sick and demented people who were in the sights of Scotland Yard," he posted in a preceding message.
A following message said that he would look to increase his muslim ban into the United States. "The travel ban into the United States should be far larger, tougher and more specific-but stupidly, that would not be politically correct!" he posted.
It is far from the first time that Mr Trump has asked for the internet to be shut down because of terror. In December, he said he would ask Bill Gates to "close up" the internet to stop it being used by Isis.
That call actually came during the same event where he launched his plans for a "complete shutdown" on Muslims entering the US, the policy that later became the travel ban.
"We're losing a lot of people because of the internet," Trump said then. "We have to see Bill Gates and a lot of different people that really understand what's happening.
"We have to talk to them about, maybe in certain areas, closing that internet up in some ways. Somebody will say, 'Oh freedom of speech, freedom of speech.' These are foolish people."
A week later, he posted more details about his plan. He said during a Presidential debate that he would get people to "penetrate" the internet and shut down the parts that were being used for radicalisation.