Trump Lashes Out at GOP Sen. Corker — Who Then Calls White House 'an Adult Day Care Center'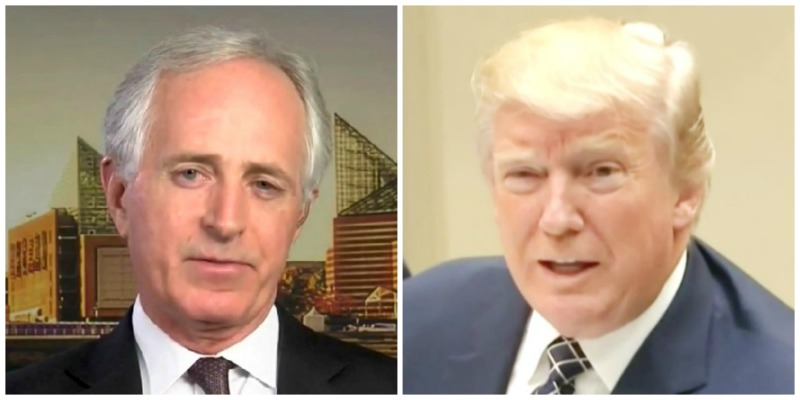 President Donald Trump and Sen. Bob Corker traded jabs in a series of tweets on Sunday, with the president first saying the Tennessee Republican "didn't have the guts to run" for re-election and Corker then calling the White House "an adult day care center."
Later on Sunday, in an interview with The New York Times, Corker suggested Trump was putting the nation on the path to "World War III" and said Trump acts "like he's doing 'The Apprentice' or something."
Trump tweeted Sunday morning that Corker "begged" him to endorse him to re-election and the president said "NO." Trump then said that Corker dropped out because he did not think he could win without his endorsement.
"He also wanted to be Secretary of State, I said "NO THANKS," Trump wrote in another tweet.
..my endorsement). He also wanted to be Secretary of State, I said "NO THANKS." He is also largely responsible for the horrendous Iran Deal!

— Donald J. Trump (@realDonaldTrump) October 8, 2017
In a third tweet, Trump said that hence he would expect Corker to "be a negative voice" and stand in the way of his political agenda, adding that the Tennessee senator "Didn't have the guts to run!"
Corker fired back, tweeting that "the White House has become an adult day care center" and that "Someone obviously missed their shift this morning."
It's a shame the White House has become an adult day care center. Someone obviously missed their shift this morning.

— Senator Bob Corker (@SenBobCorker) October 8, 2017
The Twitter feud came after Corker said earlier this week that Secretary of State Rex Tillerson, Secretary of Defense James Mattis and White House Chief of Staff John Kelly "are those people that help separate our country from chaos."
"I deal with people throughout the administration and he from my perspective is in an incredibly frustrating place," Corker said of Tillerson, later adding, "He ends up not being supportive in the way that I would hope a Secretary of State would be supported, and that's just from my vantage point."
"They work very well together to make sure the policies we put forth across the world are, you know, sound and coherent," he said of Tillerson, Mattis and Kelly. "There are other people within the administration in my belief that don't. OK? Sorry," he said with a laugh.
Corker told The Times that he is concerned about Trump and said that many of his fellow Senate Republicans shared those concerns.
"Look, except for a few people, the vast majority of our caucus understands what we're dealing with here," Corker said. "Of course they understand the volatility that we're dealing with and the tremendous amount of work that it takes by people around him to keep him in the middle of the road."
He added that Trump has hurt American diplomacy and negotiations with his Twitter usage.
"I don't think he appreciates that when the president of the United States speaks and says the things that he does the impact that it has around the world, especially in the region that he's addressing," Corker said. "And so, yeah, it's concerning to me."
A top aide for Corker also refuted Trump's tweets, saying that the president called Corker on Monday afternoon and asked that the senator reconsider his decision not to run for re-election.
"Last week President Trump called Senator Corker and asked him to reconsider his decision not to seek re-election and said I would have endorsed you," Corker's Chief of Staff Todd Womack told NBC News on Sunday.
Womack said Corker and Trump had a similar conversation in September, when Trump said he would campaign for Corker if he decided to run again.
He also took issue with Trump's comment regarding the Iran nuclear deal, where the president said Corker was "also largely responsible for the horrendous Iran Deal!"
"We led the opposition to the Iran deal and there would have been no vote in Congress had it not been for Corker's bill," Womack said, referring to the Iran Nuclear Agreement Review Act of 2015.
"We forced a vote on the Iran deal, [the Obama Administration's] plan was to go around Congress," Womack said.
Womack characterized Corker as an opponent to the deal.
Nevertheless, Trump tweeted later on Sunday afternoon that Corker "gave us the Iran Deal, & that's about it."
"We need HealthCare, we need Tax Cuts/Reform, we need people that can get the job done!" he said.
Earlier Sunday, before the Corker tweets, Mick Mulvaney, the White House's director of the Office of Management and Budget, told NBC's "Meet the Press" that he enjoys working with Corker and, now that he isn't seeking re-election, "I think it sort of unleashes him to do whatever, and say whatever, he wants to say."
"But I don't think we're that close to chaos anyway," he said, adding, "I'm in the White House every single day and I've never seen the chaos that gets reported outside. I've never seen the infighting, the back-biting."
Late last month, Corker announced that he would not see re-election, fueling speculation that he might challenge the president in a GOP primary.
And Sunday's comments come after reports last week that Tillerson was on the verge of resigning this past summer amid mounting policy disputes and clashes with the White House.
[NBC News]