Trump says military should not have to help with food, water distribution in Puerto Rico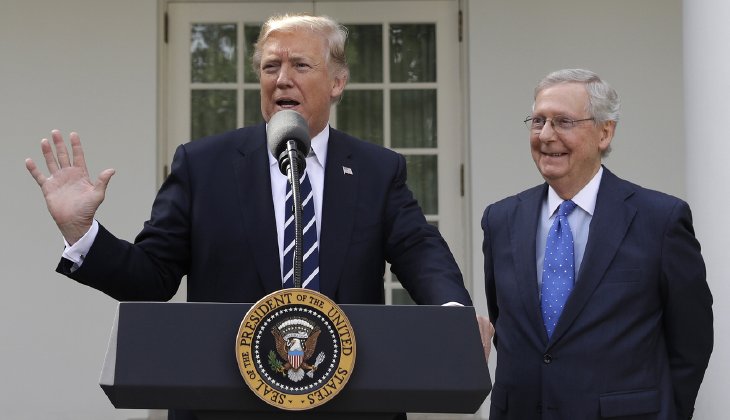 President Donald Trump said the military shouldn't have to distribute the "massive amounts" of food and water that have been delivered to storm-battered Puerto Rico.
When a reporter asked Trump about disaster relief on the island, the president said that food and water had been brought to Puerto Rico, but it wasn't being distributed by local people.
"They have to distribute the food to the people of the island. So, what we've done is, we now actually have military distributing food, something that really they shouldn't have to be doing," he said in a wide-ranging, hastily scheduled press conference on Monday.
The remark follows comments Trump made last week, where he partly blamed the island for the devastation and said emergency responders can't stay in Puerto Rico "forever."
…We cannot keep FEMA, the Military & the First Responders, who have been amazing (under the most difficult circumstances) in P.R. forever!

— Donald J. Trump (@realDonaldTrump) October 12, 2017
Puerto Rico has been reeling in the wake of Hurricane Maria, which left most of the U.S. territory without power or access to clean drinking water. Over the weekend, local authorities raised the death toll to 48 after reviewing medical records.
A local economist projected that the wreckage may have set back Puerto Rico's economy so much that it will now take more than a decade to recover.
Trump said Monday that aid operations in Puerto Rico are "very tough" because the island "was in very poor shape before the hurricanes ever hit." The island had more than $70 billion in debt before Maria landed.
The president has faced criticism for an apparent lack of empathy for Puerto Rico amid the disaster response.
During a trip to the island earlier this month, Trump said the hurricane destruction had thrown his administration's budget "a little out of whack." Later that day, he tossed packages of paper towels to hurricane victims.
While Trump has said his administration has done a great job responding to the crisis on the island, a recent poll found that most voters disagreed. Fifty-five percent of American voters say the Trump administration has not done enough to help the U.S. territory after Hurricane Maria struck, according to a Quinnipiac poll released last week.
[NBC News]
Reality
Donald Trump is continuing his racist reasoning that the people or Puerto Rico are too lazy to help themselves.