Hours after Trump calls US justice system 'a laughingstock,' White House denies he ever did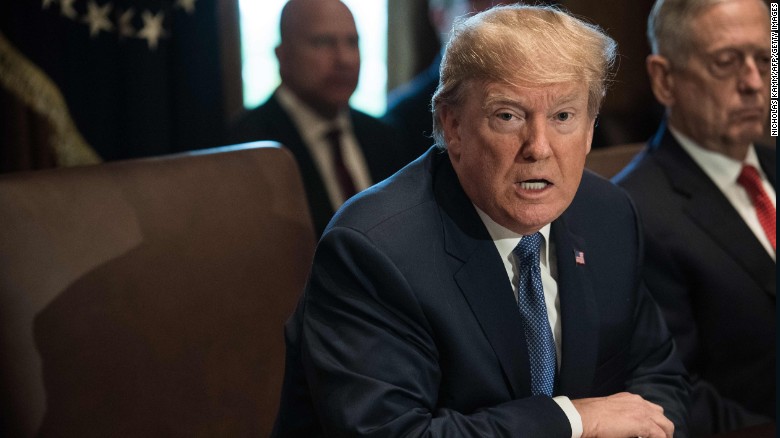 The White House on Wednesday flatly denied that President Donald Trump had ever called the American criminal justice system "a joke and a laughingstock," just hours after Trump said precisely that during a televised Cabinet meeting.
"We need quick justice and we need strong justice — much quicker and much stronger than we have right now — because what we have right now is a joke, and it's a laughingstock," Trump said at the meeting.
The president's remark followed a terror attack in New York City on Tuesday that killed eight people. The suspect, Sayfullo Saipov, was shot on the scene and quickly taken into custody. Authorities later found items that indicate the attack was inspired by ISIS.
A few hours after Trump's Cabinet meeting, CNN's Jim Acosta asked White House press secretary Sarah Huckabee Sanders, "Why did the president call the U.S. justice system a joke and a laughingstock?"
"That's not what he said," Sanders replied. "He said that process has people calling us a joke and a laughingstock."
Sanders went on to say that the president was frustrated by how long and costly it is to prosecute individuals accused of terror-related crimes under U.S. law.
"Particularly for someone to be a known terrorist, that process should move faster. That's the point [Trump] is making. That's the frustration he has," she said.
To be sure, Trump did express his frustration at the slow pace of the justice system during his Cabinet meeting, saying the nation needed "to come up with a punishment that's far quicker and far greater than the punishment these animals are getting right now." But he never said there were "people calling us a joke."
Wednesday's press briefing left reporters stunned, as they compared Sanders' denial with the official transcript of Trump's remarks in the Cabinet meeting.
CNBC asked the White House to clarify how Sanders could have claimed "that's not what [the president] said" when that was, in fact, precisely what the president said. The White House did not immediately respond.
[CNBC]
Media
Trump calls US justice system 'a laughing stock,' White House denies it from CNBC.