Trump Wonders Why Japan, 'A Country Of Samurai Warriors,' Didn't Shoot Down Missiles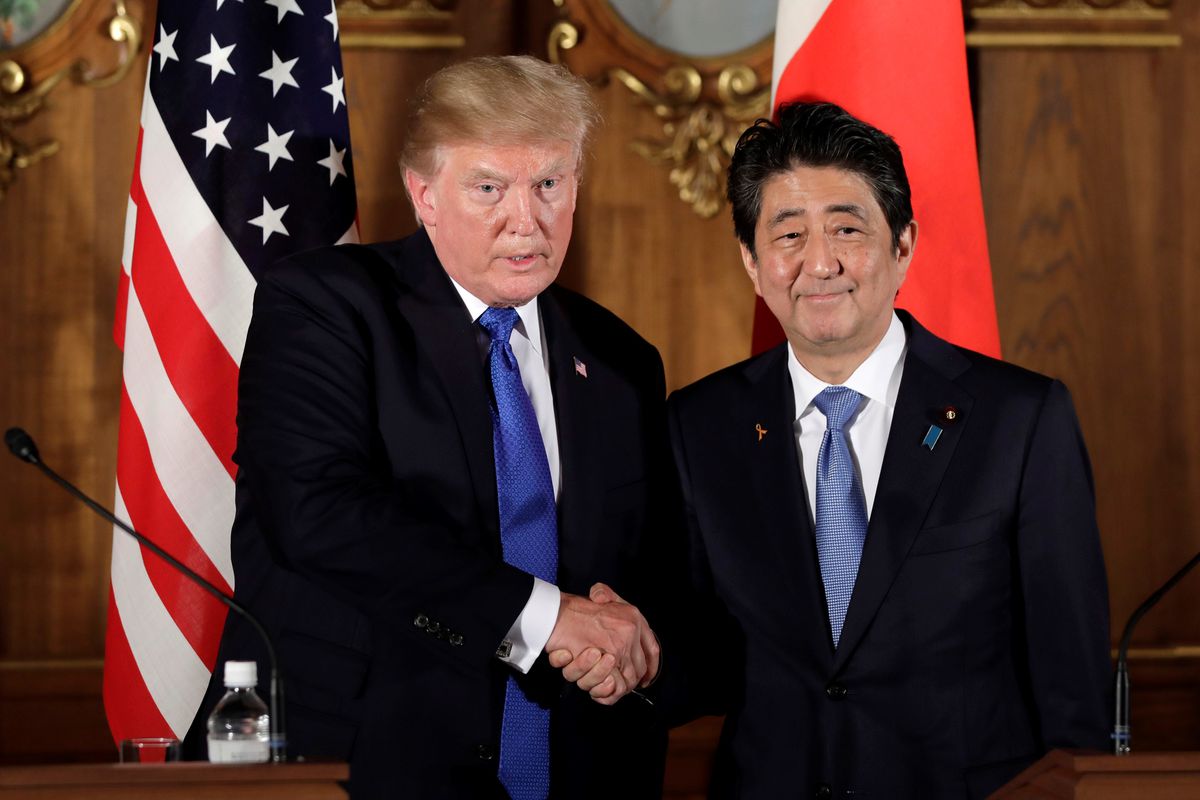 Donald Trump's trip to Asia has demonstrated at least one firm fact about his foreign policy: He's not afraid to make his point using stereotypes.
On Sunday, the president expressed surprise that Japan didn't shoot down North Korean missiles that flew over the country in late August.
The missiles ended up landing in the Pacific Ocean, but Trump is reportedly bewildered by how officials responded to the potential crisis.
Trump said he could not understand why a country of samurai warriors did not shoot down the missiles, according to sources who spokes to the Kyodo News Agency.
Perhaps the president meant the comment as a compliment to one part of Japan's cultural heritage, but it's similar to calling England "a country of knights in shining armor," Mongolia "a country of huns on horseback" or Switzerland "a land of clockmakers that have knives with many accessories."
According to the Kyodo News Agency, officials from Japan's Self-Defense Forces explained that they didn't try to intercept the missiles because experts who had monitored the rockets from launch determined they would not land on Japanese territory.
In addition, the missiles were flying at a speed and altitude that would have made destroying them in flight very difficult, the Japan Times noted, adding that any failure to intercept would have embarrassed Japan while encouraging North Korea.
Shooting down the missiles might also have been interpreted by North Korea as an act of war, further escalating the conflict needlessly, according to an article in Slate.
Of course, Trump has not been shy about making aggressive remarks toward North Korea.
Gizmodo noted that in a speech before the trip, Trump told the troops, "We dominate the sky. We dominate the seas. We dominate the land and space."
He then added, "Every once in a while, in the past, they underestimated us. It was not pleasant for them, was it? It was not pleasant."
However, Trump has also shown a small dose of humility during his Asia trip.
On Monday, he gave a speech to Japanese dignitaries and conceded he may not have been completely prepared for the presidency, and that may have negatively affected relations with Japan in the early part of his presidency.
"So my relationship with [Japanese Prime Minister] Shinzo [Abe] got off to quite a rocky start because I never ran for office, and here I am," Trump said, according to Raw Story. "But I never ran, so I wasn't very experienced. And after I had won, everybody was calling me from all over the world. I never knew we had so many countries."
Media
https://www.youtube.com/watch?v=OJPg6Nz6wJ0