Trump says he trusts Putin's denials of election meddling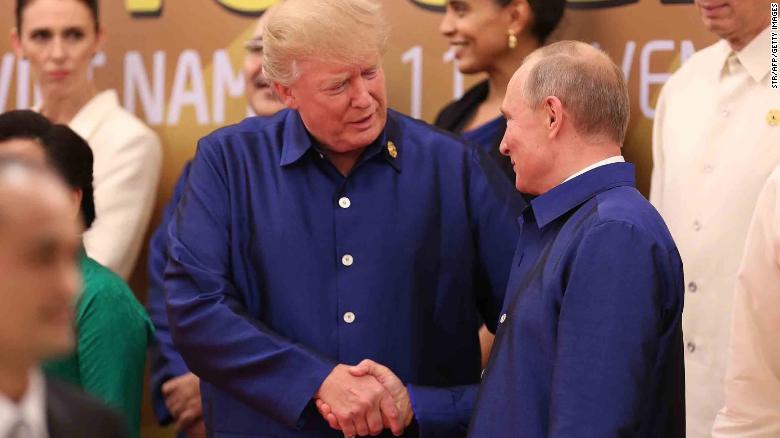 U.S. President Donald Trump said he believed President Vladimir Putin when he denied accusations Russia meddled in last year's U.S. election despite U.S. intelligence agencies' conclusion of Russian interference.
Trump made the comment after he and Putin met briefly at a summit in Vietnam on Saturday and agreed on a statement supporting a political solution for Syria.
It was their first encounter since July and came during a low in U.S.-Russia relations and at a time Trump is haunted by an investigation into accusations that Putin influenced the election that brought him to the White House.
Putin reiterated the denials of interference, Trump said.
"Every time he sees me he says I didn't do that, and I really believe that when he tells me that, he means it," Trump told reporters aboard Air Force One after leaving the Asia-Pacific Economic Cooperation (APEC) summit in the resort of Danang.
"I think he is very insulted by it, which is not a good thing for our country," Trump said.
Trump, who has called allegations of campaign collusion with Moscow a hoax, has faced questions from Democrats about the matter since he took office. A special counsel, Robert Mueller, is conducting a probe that has led to charges against Trump's former campaign manager Paul Manafort and his associate Rick Gates.
U.S. intelligence agencies have also concluded Russians interfered to tip the election in Trump's favor through hacking and releasing emails to embarrass Democratic candidate Hillary Clinton and spreading social media propaganda.
Russia has repeatedly denied meddling.
The top Democrat on the U.S. House of Representatives intelligence committee, which is investigating the issue, harshly criticized Trump's comments and accused him of siding with Putin over U.S. intelligence agencies.
"The President fools no one. He understands that the Russians intervened through the hacking and dumping of his opponent's emails, the fruits of which he exploited time and again on the campaign trail," Adam Schiff said in a statement.
"He understands all this and more. He just doesn't understand how to put country over self. Or to put it in terms he is more familiar with – Mr. Trump simply can't bring himself to put America first," the Democrat said.
[Reuters]