Donald Trump criticizes NFL anthem idea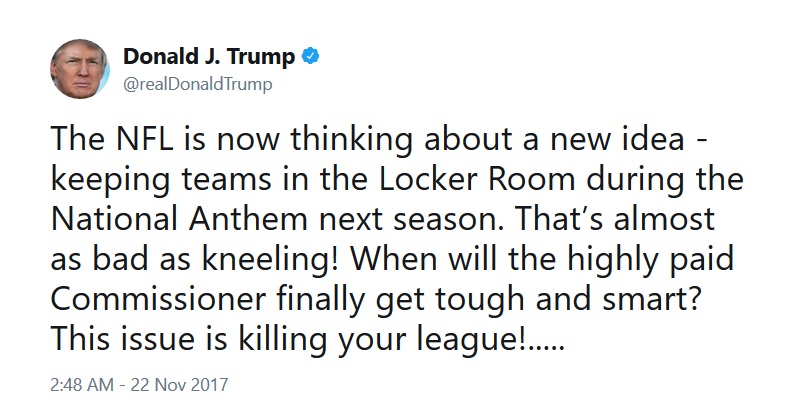 President Donald Trump continued to target NFL commissioner Roger Goodell and LaVar Ball, criticizing both in a series of tweets Wednesday.
Trump bashed a plan, as reported by The Washington Post, that would keep NFL teams in the locker room during the national anthem, saying it is "almost as bad as kneeling."
The NFL is now thinking about a new idea – keeping teams in the Locker Room during the National Anthem next season. That's almost as bad as kneeling! When will the highly paid Commissioner finally get tough and smart? This issue is killing your league!…..

— Donald J. Trump (@realDonaldTrump) November 22, 2017
According to the Post, some NFL owners believe that the league will change its policy during the offseason and keep players in the locker room to prevent demonstrations during the anthem. The Post report cites sources "familiar with the league's inner workings."
Players did not typically stand on the sideline for the national anthem until 2009, when the NFL changed its policy to bring the teams out before "The Star-Spangled Banner."
Free-agent quarterback Colin Kaepernick launched the wave of protests during the anthem last season when he kneeled to protest police brutality against African-Americans and other inequality.
Trump has criticized Kaepernick on multiple occasions and made claims that players who protest during the anthem should be suspended or released.
Along with his tweet about the national anthem, Trump added fuel to his developing rivalry with Ball.
The president appeared to take full credit Wednesday for intervening on behalf of three UCLA men's basketball players, including Ball's son LiAngelo Ball, after they were arrested and accused of shoplifting during a team trip to China.
[ESPN]