White House's Sarah Huckabee Sanders says 'Pocahontas' is not a racial slur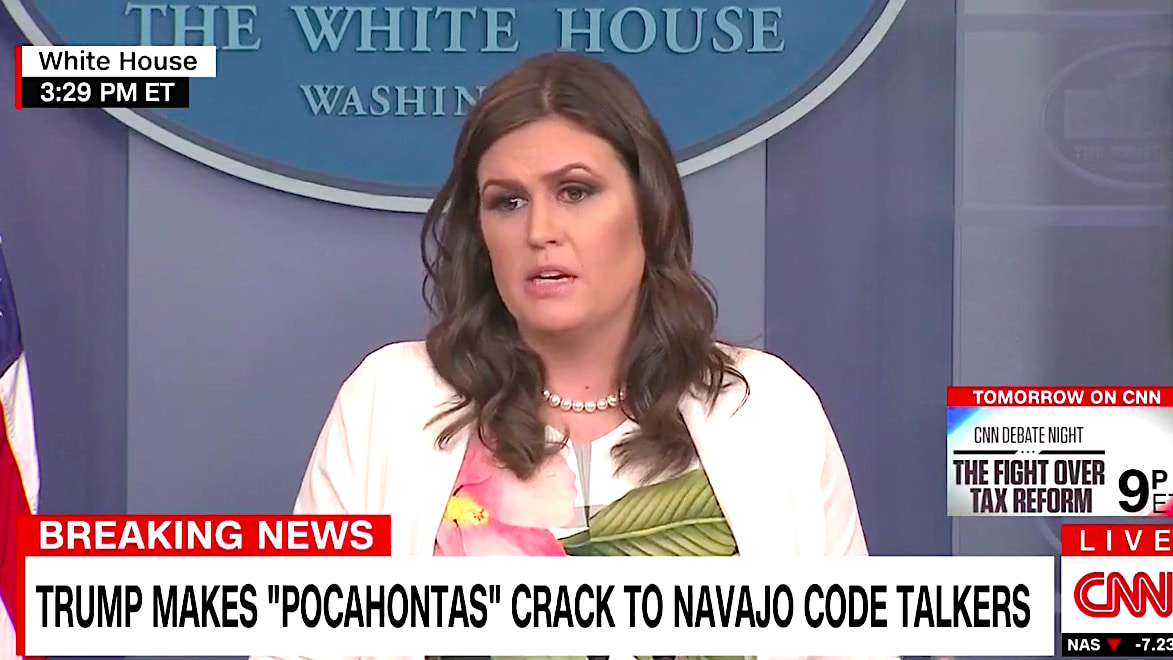 White House press secretary Sarah Huckabee Sanders on Monday denied that President Donald Trump was using a racial slur in referring to Sen. Elizabeth Warren, D-Mass., as "Pocahontas."
Trump used the term again Monday to describe Warren, during a White House event for Native American military veterans.
Asked why Trump would choose to use a phrase that many people find offensive, Sanders said that "what most people find offensive is Senator Warren lying about her heritage to advance her career." She added that seeing Trump's use of "Pocahontas" as a racial slur was a "ridiculous response," because it was not.
"I don't believe that it is appropriate for [the president] to make a racial slur, or anybody else," Sanders said, but "I don't think that it is [a racial slur] and I certainly don't think that was the president's intent."
Warren is one of Trump's most outspoken critics in the Senate, and for years, Trump has relished referring to her as "Pocahontas," a reference to Warren's claim that her family has Native American heritage.
At the White House on Monday, Trump told the veterans, who were "code talkers" in World War II, "You were here long before any of us were here. Although we have a representative in Congress who, they say, was here a long time ago. They call her Pocahontas." As soon as Trump said it, the room fell silent.
Sanders, however, claimed that Trump's respect for the veterans was reflected more in his actions than necessarily in his words.
"The president certainly finds an extreme amount of value and respect for these individuals. He's constantly showing ways to honor those individuals," she said.
Warren, however, was less forgiving. Responding to Trump's remarks on MSNBC, the Massachusetts Democrat said it is "deeply unfortunate that the president of the United States cannot even make it through a ceremony honoring these heroes without having to throw out a racial slur."
Later Monday, Navajo Nation President Russell Begaye said the remark was unfortunate.
"In this day and age, all tribal nations still battle insensitive references to our people. The prejudice that Native American people face is an unfortunate historical legacy," Begaye said in a statement.
While the Navajo Nation appreciated the honor and recognition bestowed upon its "code talkers," Begaye said, it does not want to be a part of this "ongoing feud" between the senator and the president.