Trump cancels UK visit and blames Obama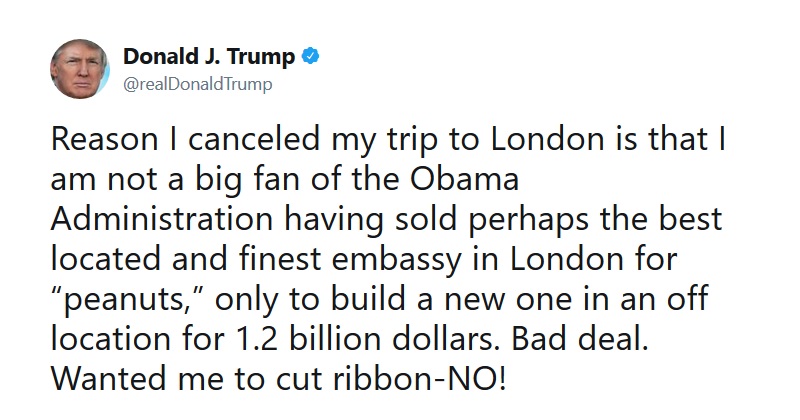 US President Donald Trump has cancelled his visit to the UK in February, during which he was to open a new embassy in London. He tweeted that he was not a "big fan" of the $1bn (£738m) building in Vauxhall, in the south of the city, commissioned by his predecessor Barack Obama. The ceremony may now be overseen by Secretary of State Rex Tillerson.
Trump had enraged politicians in the UK in November when he retweeted several inflammatory videos from far-right group Britain First – a move that Mrs May said was "wrong" and which prompted British MPs to describe Mr Trump as "fascist", "stupid" and "racist, incompetent or unthinking".
This planned trip was not the full state visit agreed between the UK and the US, but for which no date has yet been set.
Reality
The president is claiming he's not going to visit a top ally because he's unhappy about a real estate decision by the Obama administration, however the decision to build a new embassy was made in October 2008 during the George W. Bush administration.