Trump Hails Poll That Credits Obama for Booming Economy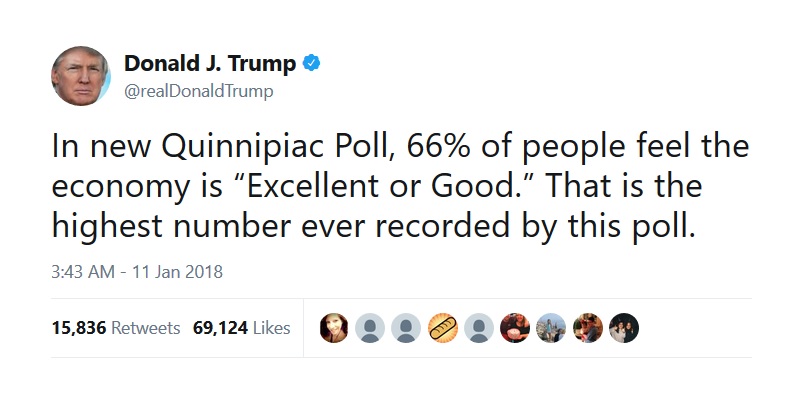 Donald Trump hailed a new poll on the economy Thursday, despite the full results being a less than resounding endorsement of his presidency.
"In new Quinnipiac Poll, 66% of people feel the economy is "Excellent or Good." That is the highest number ever recorded by this poll, Trump tweeted.
While Trump is right that these numbers are the highest positive rating in Quinnipiac poll on the economy since 2001, the survey also found that 49 percent of American voters believe former President Barack Obama is responsible for the economy's current state. Only 40 percent of voters said Trump was responsible.
The Quinnipiac poll, which was published Wednesday, also asked about Trump's intelligence, his level-headedness and his fitness to serve as president.
Asked to grade President Trump's first year in office, 56 percent of those polled gave him a failing grade of F or D. Just 16 percent of respondents gave him an A.
As for Trump's performance so far in office, only 36 percent said they approved, while 59 percent voiced disapproval.
"No one's been this low at this point," Tim Malloy, assistant director of the Quinnipiac University Poll, told Newsweek, speaking of Trump's 36 percent approval rating.
Meanwhile, the number of American voters giving former President Barack Obama credit for the state of the economy has increased since November.
Forty-three percent of respondents credited Obama in Quinnipiac's November 22 poll. That percentage rose to 45 in December and 49 in January.
Trump's numbers have been more stagnant. Forty-one percent gave him credit for the economy's state in November. That percentage rose to 43 in December and fell to 40 in January.
"It's been a very tough freshman year for President Donald Trump, by any measure," Malloy said in a statement.
The Quinnipiac University poll was conducted from January 5 to 9 via cellphones and landlines. The poll surveyed 1,106 voters nationwide and has a margin of error of 3.6 percentage points.
[Newsweek]
Reality
Also in the same poll:
49 percent of voters say former President Barack Obama is more responsible for the state of the economy
36% job approval rating, a historic low for any president at this point.
69% say Trump is not level-headed
57% say he is not fit to serve as president
63% say he is not honest
59% say Trump does not have good leadership skills
59%say he does not care about average Americans
65% say he does not share their values
39% gave Trump an 'F' grade,  and 17% gave him a 'D' grade.