FBI director Chris Wray replaces Comey holdover with Trump loyalist amid pressure from AG Sessions to 'clean house'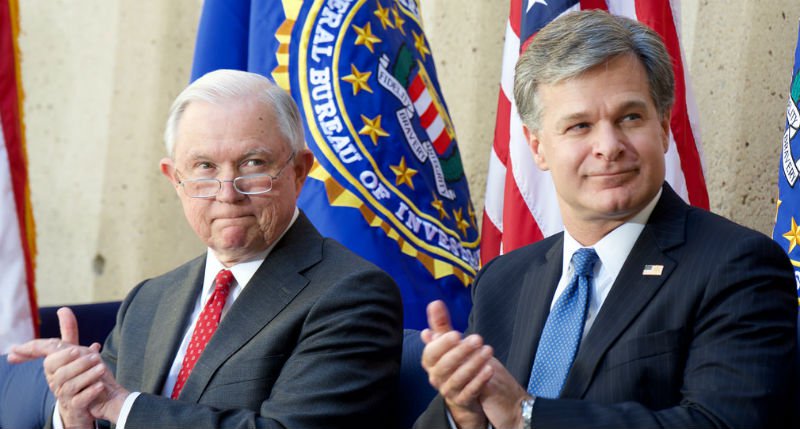 FBI Director Christopher Wray has announced the replacements for two top FBI jobs that worked under ex-director James Comey, amid pressure from the attorney general and White House to "clean house" during special counsel Robert Mueller's probe.
As The Washington Post reported Tuesday, Dana Boente, the U.S. attorney for the Eastern District of Virginia, was named as the replacement for former FBI general counsel James Baker, who "was reassigned late last year." He also appointed Zachary J. Harmon, a colleague from the law firm he worked for prior to taking the helm of the bureau, as his new chief of staff after his old one, Jim Rybicki, left to take a private sector job.
Baker's reassignment in December came amid right-wing media speculation that he "leaked" information from the bureau and was an ally to Comey, who defended him on Twitter in the days after he was moved to a different position.
Boente, the Post noted, may be seen as a loyalist for President Donald Trump despite being appointed to his U.S. attorney position President Barack Obama. After acting Attorney General Sally Yates refused to back Trump's travel ban, Boente stepped forward to defend it.
The announcement of the filled positions came after reports that Attorney General Jeff Sessions has been pressuring Wray to reshuffle positions in the bureau. Yesterday, Axios reported that Wray threatened to quit if he were forced to fired Deputy Director Andrew McCabe, a foe of the Trump administration despite being appointed as acting director of the bureau following Comey's firing.