Draft Homeland Security report called for long-term surveillance of some Muslim immigrants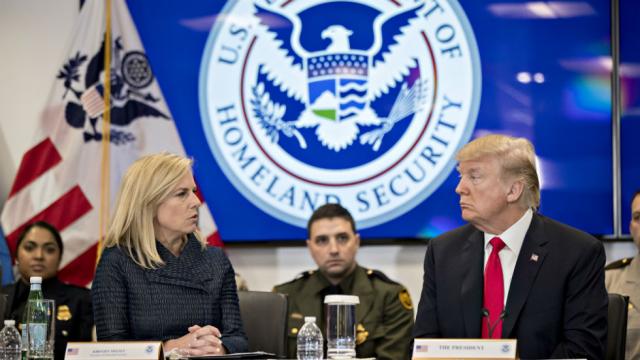 The Department of Homeland Security in a draft report from late January recommended authorities surveil Sunni Muslim immigrants in the United States long-term if it were decided that they fit "at-risk" demographic profiles, Foreign Policy reported Monday.
Upon reviewing 25 terrorist attacks that took place on U.S. between October 2001 and December 2017, the draft report concluded it would be of "great value for the United States Government in dedicating resources to continuously evaluate persons of interest," according to a copy obtained by FP.
When such immigrants reached American soil, the draft report also reportedly recommended the U.S. track them on a "long-term basis."
The report could raise new questions about the Trump administration's policies geared toward Muslim immigrants.
The draft identified a broad group of Sunni Muslim residing within the U.S. who were identified as possibly being "vulnerable to terrorist narratives," because they matched a set of risk indicators, such as being young, male and having national origins in "the Middle East, South Asia or Africa."
Kevin McAleenan, commissioner of U.S. Customs and Border Protection (CBP), requested the report on Jan. 22, FP reported, citing internal DHS correspondence.
A CBP spokesperson told the news outlet that the report they obtained was a "first draft," which has already undergone some revisions and continues to be changed.
"[I]t is extremely important to highlight an important aspect — the document that was improperly provided to you is not a final CBP intelligence assessment, and therefore does not reflect CBP's policy on this matter," the spokesperson wrote.
"More specifically, the initial draft assessment in your possession not only is still undergoing internal CBP review, but, at the time of its improper disclosure, did not reflect a large number of substantive comments and revisions that have since been made to subsequent versions of the document as a result of CBP's internal and external review process," their email continued.
One department official who reviewed the report told FP it is the only risk-analysis product being shared around DHS and the report's recommendations are derived from reviews of select cases — even if the report markets it as an all-encompassing review.
"First, this report would steer policymakers to implement unfair and discriminatory surveillance of particular ethnic groups," the DHS official told the magazine.
"Second, the analysis, which is misleadingly packaged as a comprehensive analysis of post-9/11 terrorism, could lead policymakers to overlook significant national security threats," the official added.
During his presidential campaign, Trump called for a ban on Muslim immigration to the U.S., a policy that critics say has taken the form of his travel-ban on several Muslim-majority countries.
That ban has been challenged in the judicial system, and the Supreme Court announced plans to review it last month.
[The Hill]