Trump: 'I'd love to see a shutdown' over immigration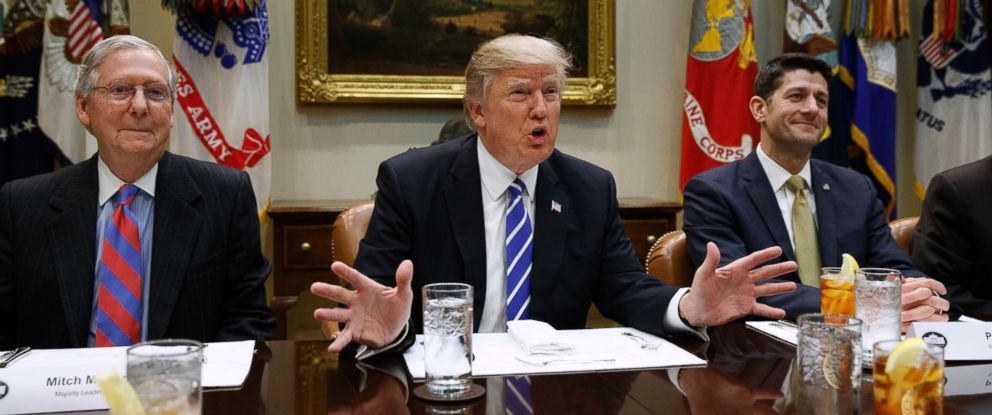 President Donald Trump said on Tuesday he supports a government shutdown if Democrats won't agree to tighten immigration laws, undercutting ongoing bipartisan negotiations on Capitol Hill.
The comment, which came during a White House meeting on the violent MS-13 gang, was not well received in the room. Rep. Barbara Comstock, a Virginia Republican who represents a district with thousands of federal workers, confronted Trump about the remark and urged him to avoid another government shutdown.
"If we don't change it, let's have a shutdown," Trump said of the nation's immigration laws. "We'll do a shutdown and it's worth it for our country. I'd love to see a shutdown if we don't get this stuff taken care of."
He added: "If we have to shut it down because the Democrats don't want safety, and unrelated but still related, they don't want to take care of our military, then shut it down. We'll go with another shutdown."
The government will run out of funding Thursday if negotiators can't strike a deal.
Several Republican aides working on the budget deal have voiced concern to CNN that the President's comments about a shutdown may cause things to fall apart.
"Holding my breath right now," texted one senior Republican working on the deal.
The issue is whether House Democrats — who have for months been outright resistant to signing onto a budget agreement without a resolution on the Deferred Action for Childhood Arrivals program — will now back away from the breakthrough deal negotiators are approaching.
The President's remarks happened at the same time Senate Majority Leader Mitch McConnell and Senate Democratic Leader Chuck Schumer, in separate news conferences, touted the progress on the talks and made clear a deal was close. The talks also separate the issue from immigration altogether — long the GOP goal — making the President's comments somewhat confusing.
"Things are in a good place, but also fragile," another GOP aide said, noting all of the moving parts in the talks. "We could do without anything inflammatory for a couple of days."
Speaking shortly after Trump during the White House meeting, Comstock said she would not back such a move and urged Trump to avoid it.
"We don't need a government shutdown on this," she said. "I think both sides have learned that a government shutdown is bad."
At a later event, Comstock described her comments with Trump as "a very civil discussion" and that she doesn't "support government shutdowns.
When asked to clarify his remarks at the end of the roundtable, Trump told reporters again that he would shut down the government over immigration.
"I would shut it down over this issue. I can't speak for everybody at the table but I will tell you, I would shut it down over this issue," he said, adding that if the US doesn't straighten out its borders "we don't have a country. Without borders we don't have a country."
Rep. Pete King, R-New York, who attended the White House meeting, told reporters afterward that he doesn't think the government will shutdown over immigration policy, despite Trump's comments.
"I don't see that in the offing," King said.
Schumer responded to Trump's shutdown threat, saying it "speaks for itself."
"We had one Trump shutdown, nobody wants another, maybe except him," Schumer said.
Trump oversaw a multi-day government shutdown last month over immigration reform.
Though Trump opposed that government shutdown, he has previously said the United States could use a government work stoppage.
"Our country needs a good 'shutdown' in September to fix mess," he tweeted in May.
[CNN]