Kellyanne Conway Says Sen. Gillibrand, Who Was First Elected in '06, 'Protected' Clinton During Impeachment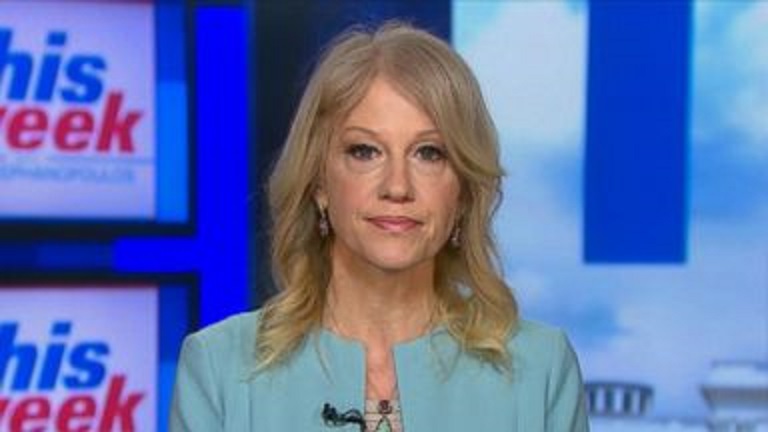 Following White House staff secretary Rob Porter's resignation amid allegations that he abused two ex-wives, President Donald Trump told reporters that he wished Porter well and that Porter has said the accusations are false. He also stated that Porter was "very sad" over the situation and hoped the ex-aide had a "wonderful career."
During today's broadcast of ABC's This Week, White House counselor Kellyanne Conway was pressed on the president's response to the controversy and his weekend tweet seemingly doubling down on it in which he cited due process. Host George Stephanopoulos brought up reaction from Sen. Kirsten Gillibrand (D-NY), who said that Trump has shown that he "doesn't value women."
The President has shown through words and actions that he doesn't value women. It's not surprising that he doesn't believe survivors or understand the national conversation that is happening.

— Kirsten Gillibrand (@SenGillibrand) February 10, 2018
The lives of survivors of sexual assault and domestic abuse are being shattered every day. If he wants due process for the over dozen sexual assault allegations against him, let's have Congressional hearings tomorrow. I would support that and my colleagues should too.

— Kirsten Gillibrand (@SenGillibrand) February 10, 2018
Conway brushed off Gillibrand's criticism by invoking President Bill Clinton's indiscretions with women and late '90s impeachment. After noting that Trump's accusers had "their day" when they were "trotted out" on television, Conway said the following:
"I don't need a lecture from Kirsten Gillibrand on anybody else who protected and defended and harbored a sitting president who had sexual relations in the Oval Office and was impeached for lying. I don't need a lecture from her or anybody else."
Only one problem with Conway's counterpoint to Gillibrand — Gillibrand was first elected to Congress in 2006 and didn't actually get to Washington until January 2007, years after Clinton was impeached over the Lewinsky affair. This fact wasn't lost on some media figures.
[Mediaite]